Jonathan, Jo and Isabella came along to our studio for a CAPOW! Superhero Experience Photoshoot recently and we wanted to share their story…
First, a few words from Jonathan…
First of all, can we thank you for the experience that we had on Tuesday.  Every person that we dealt with at Bartley were so friendly and your studios were amazing.  Within minutes of starting, Isabella felt so comfortable and that was due to Chris and the way he explained everything and the way he spoke to Isabella.  He was so caring, yet enthusiastic about it.  Natasha was very patient with us when deciding what pictures we would choose and was making suggestions to help us, she was always smiling and made sure that we were happy with what we chose.  I think it was Sammy that sold us our CAPOW voucher, I do not want to forget mentioning her.  She was friendly and took her time explaining everything to us, despite how busy and crowded the event was.  The whole experience was very professional but done in such a relaxed way that it was fun.
What were you looking to achieve from your CAPOW! shoot with us?
We were looking for a fun experience for our daughter which would generate a picture that would be empowering to her and give her more self belief.  We want her to believe that she can accomplish anything she puts her mind to and see an image of herself that will reinforce that.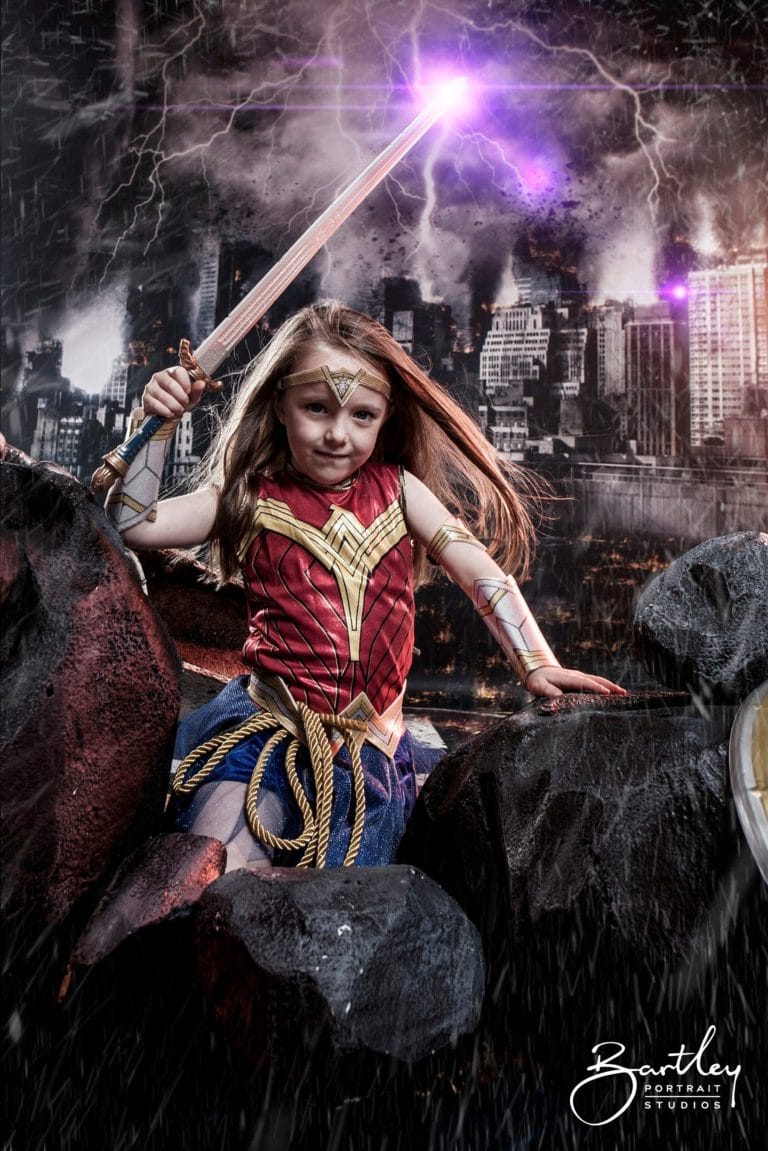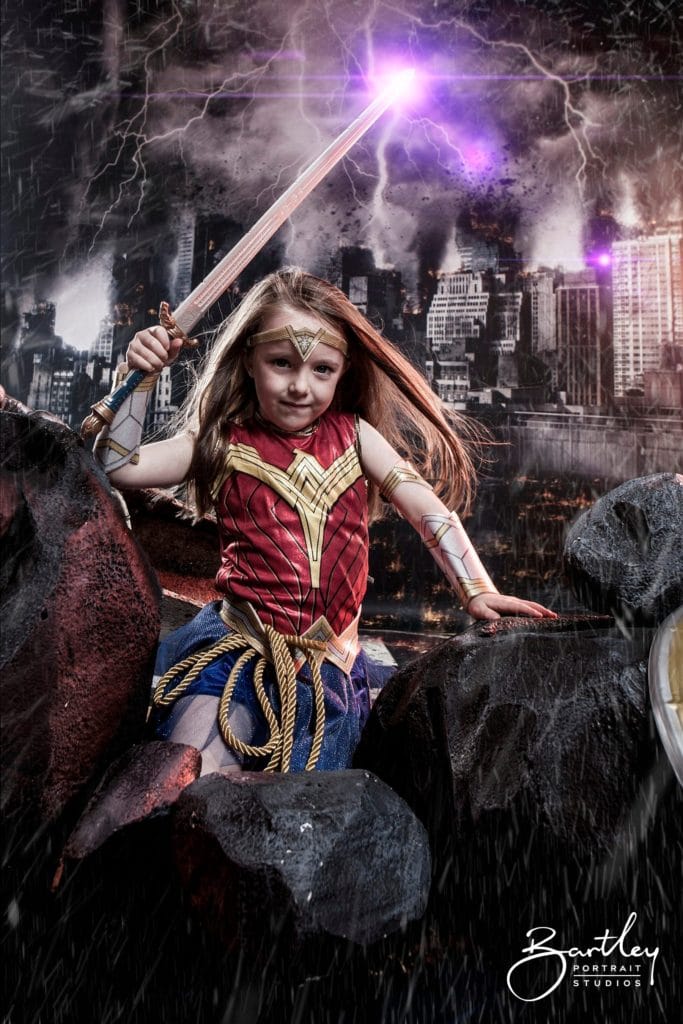 Tell us about your family and  interests in superheros

We are a family of 3; Jonathan, Jo and Isabella who is 5.  It is Jonathan that is most interested in superhero movies and Isabella is interested because of this.  Isabella loves getting dressed up. Disney princesses, superheroes (Owlette from PJ Masks, Batgirl, Mal from Descendants (which is what she wore for Comic Con), Wonder Woman, Spidergirl).  The movie that probably started Isabella's interest in superheroes was Lego Batman, which then led to DC Super Hero Girls.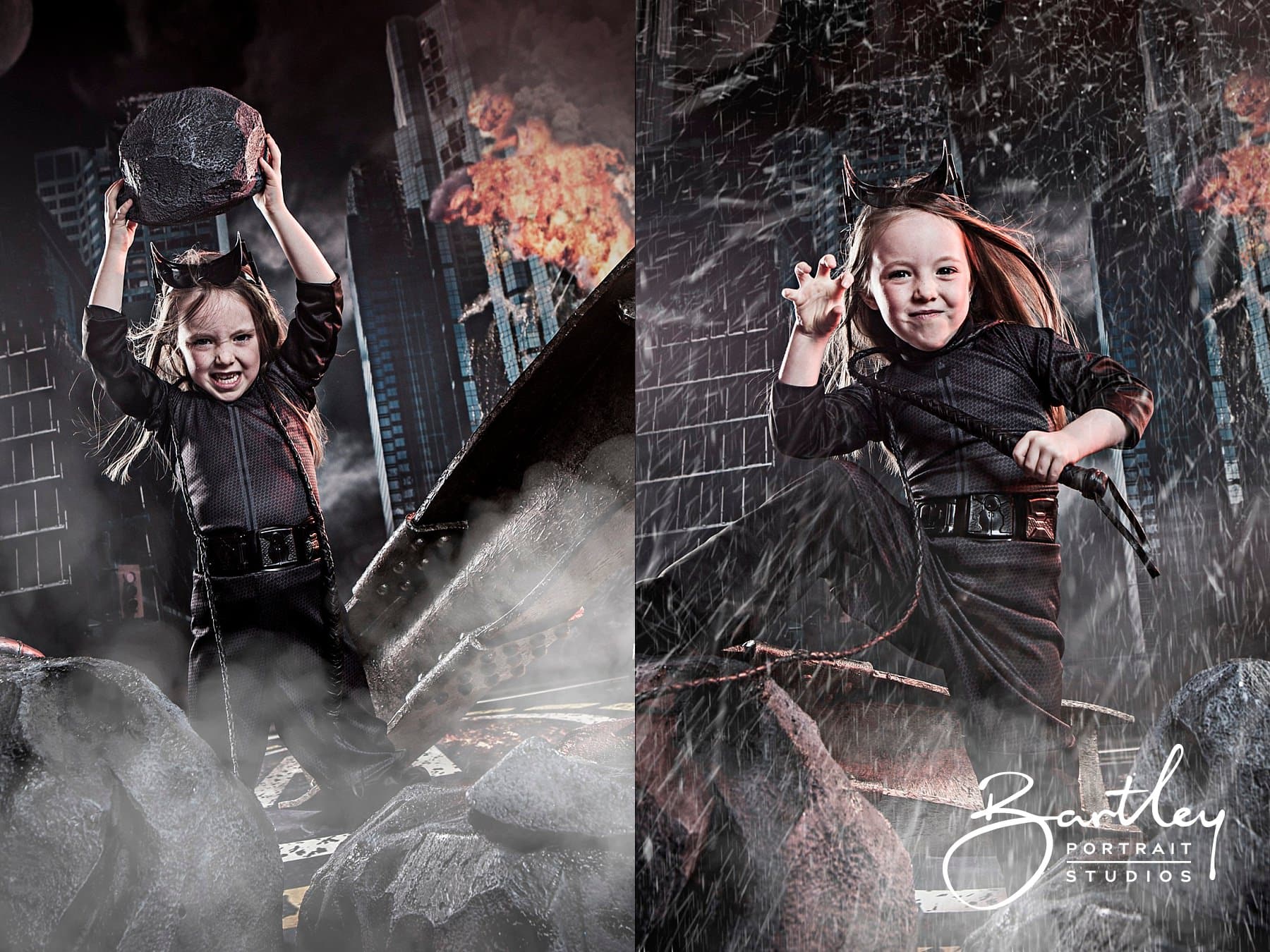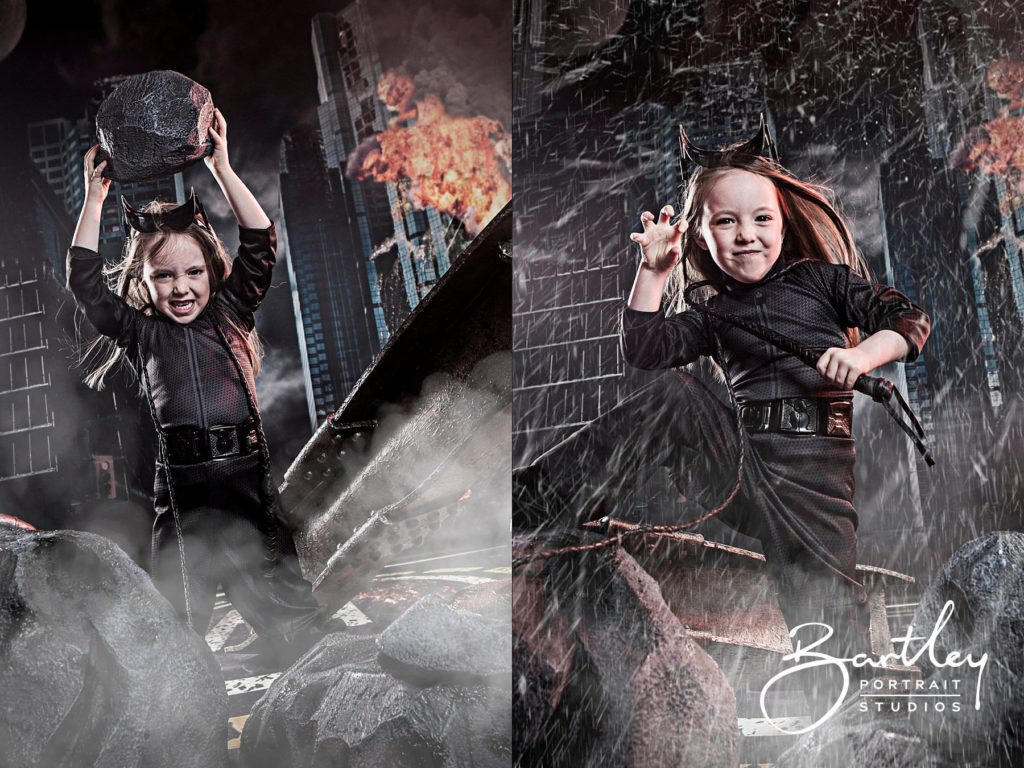 Had you ever done anything like this before?
We had a photoshoot for Isabella when she was 12 days old, but nothing that she was aware of.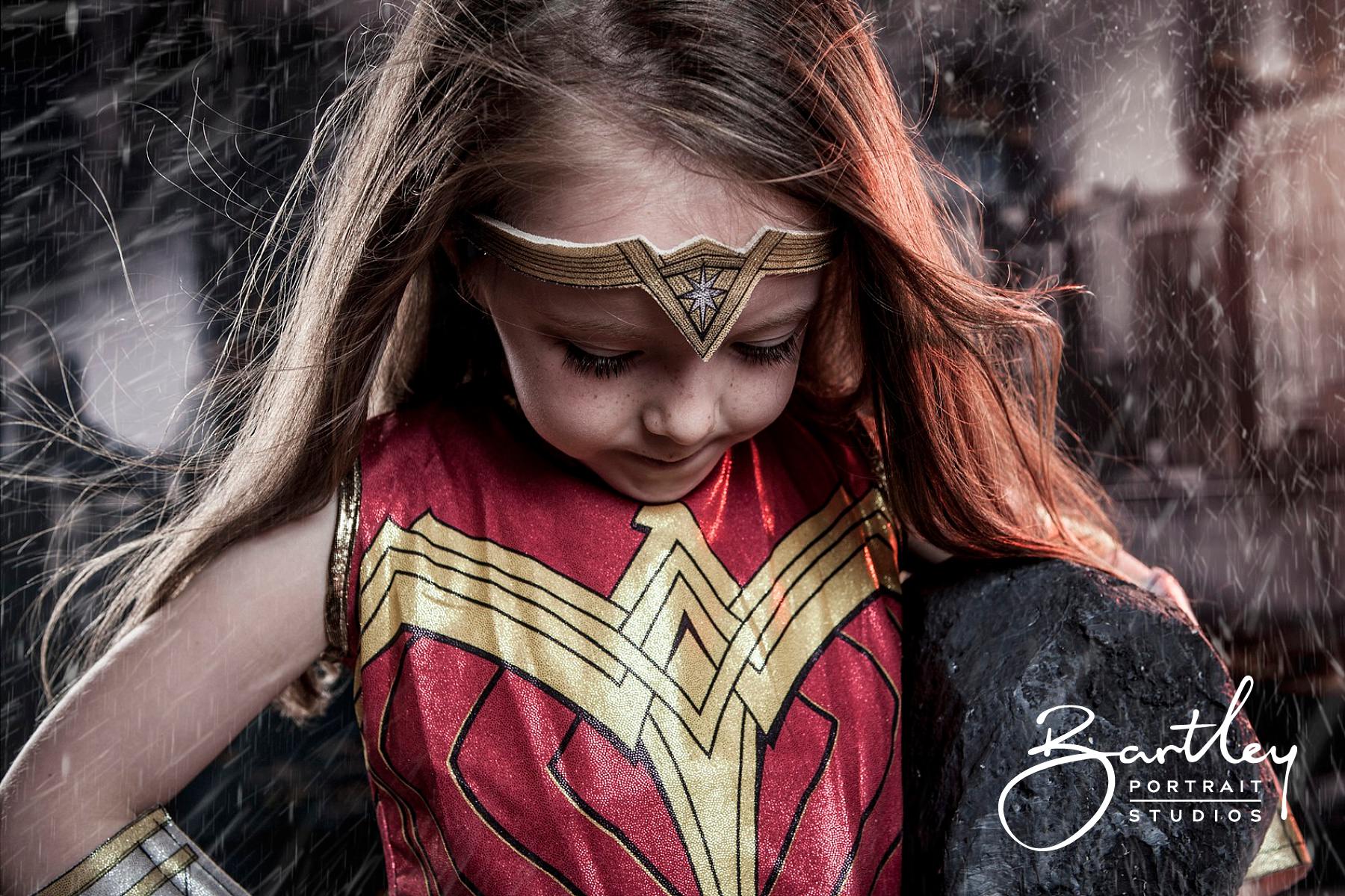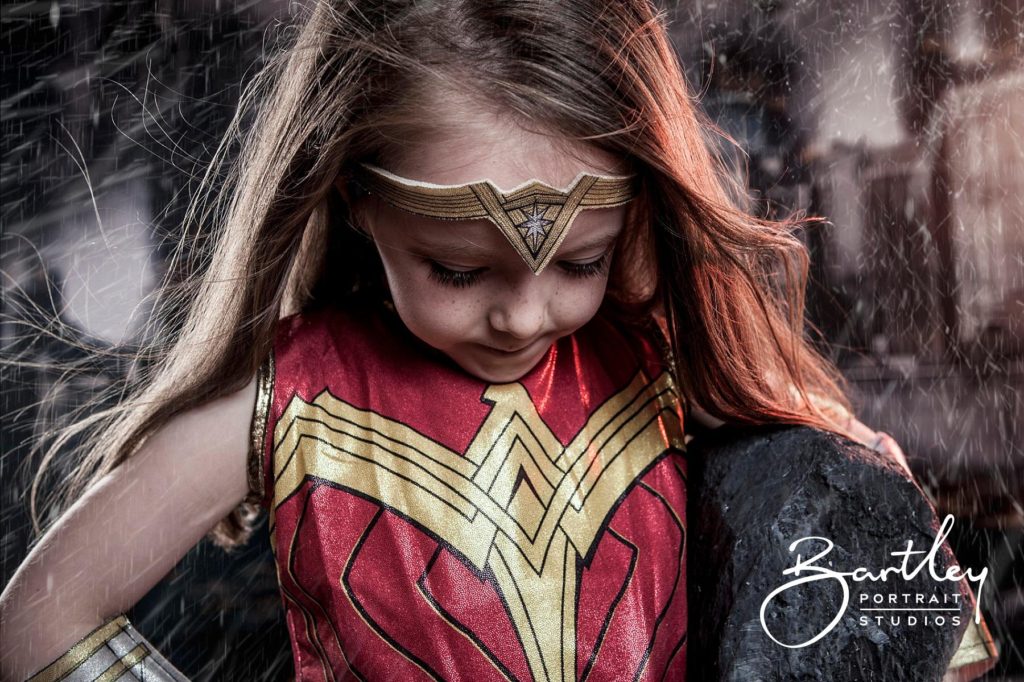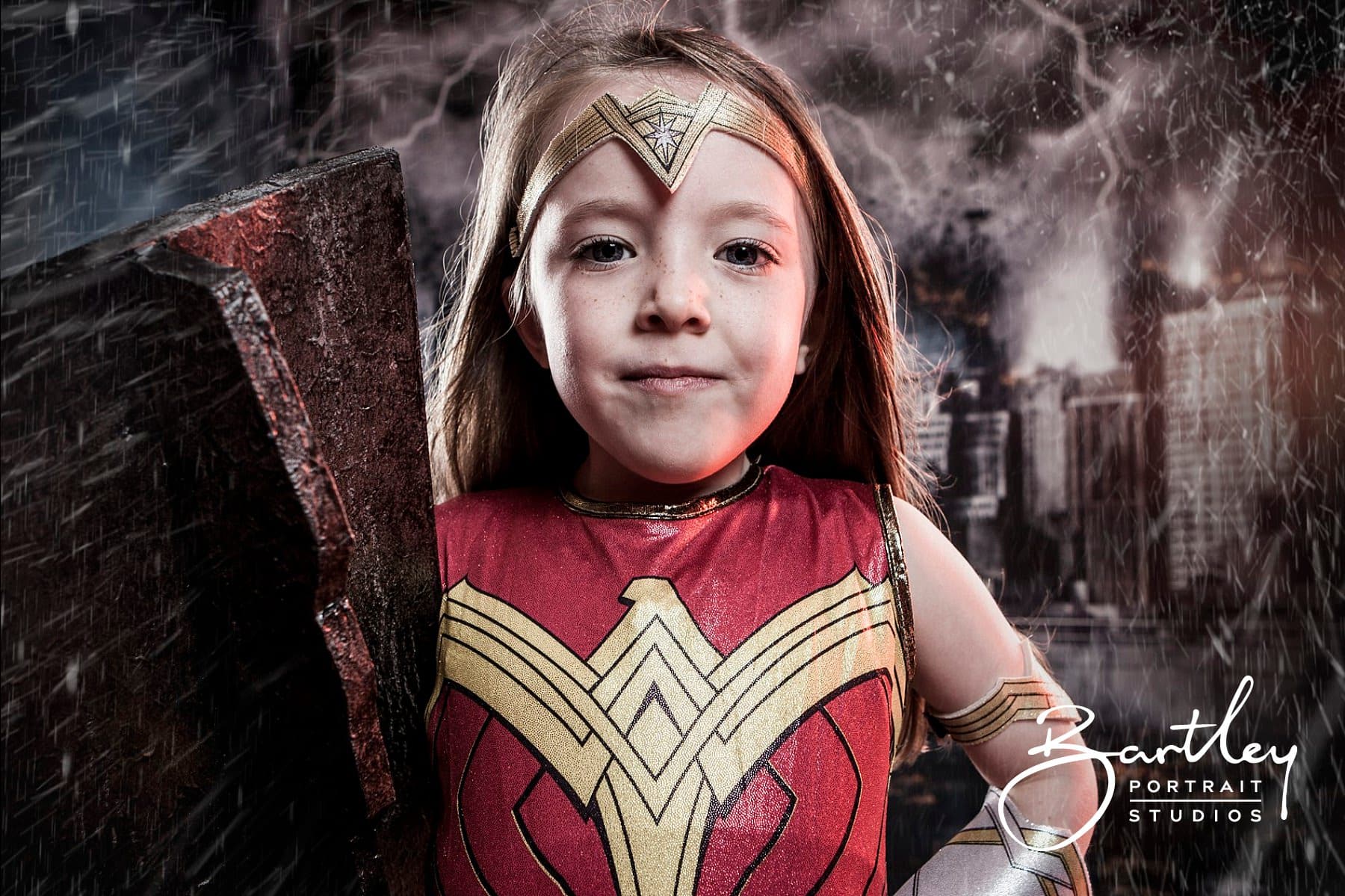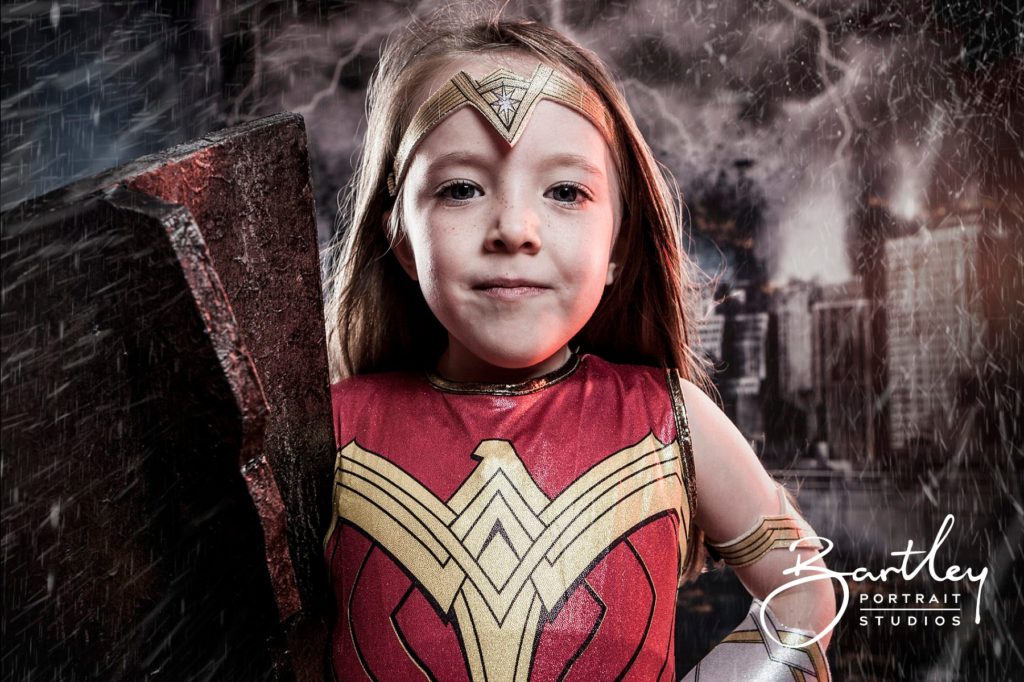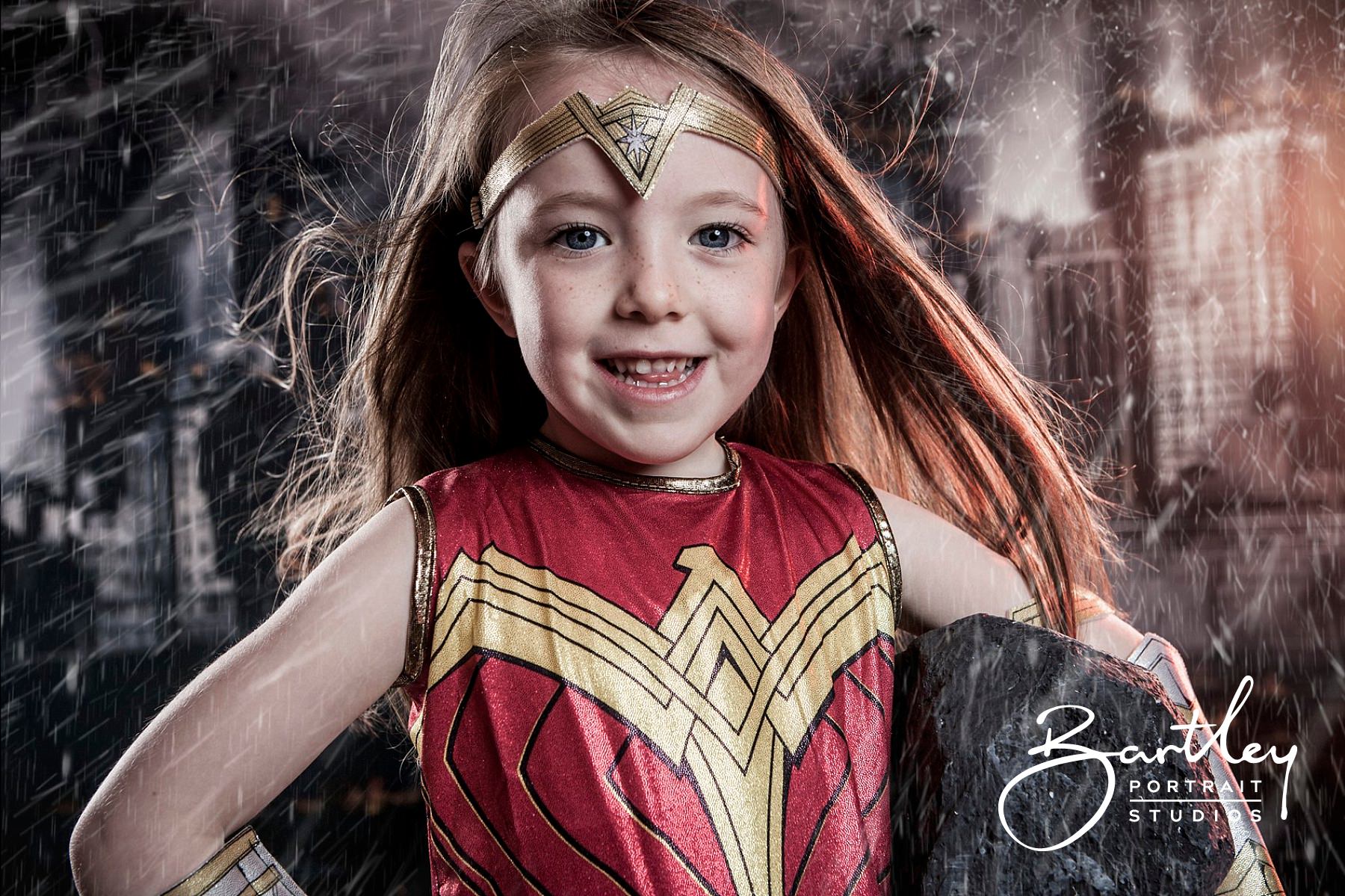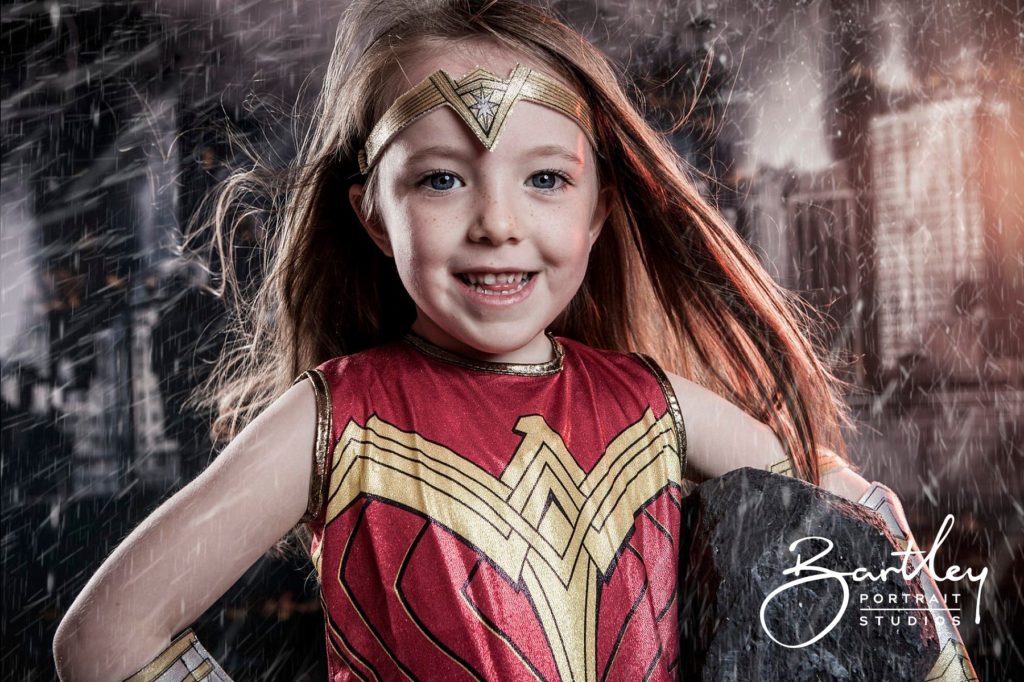 Why did you think that CAPOW would be right for you?
Isabella likes dressing up and I had an image in my mind of a picture that I would like to have in her room so it is one of the first and last images that she sees every day.  The image I had in mind was quite dark background with Isabella as a superhero with the red and blue colours of her outfit being vivid.  I wanted it to look like there had been a huge battle and she was coming out of it victorious, having saved the day and being a hero.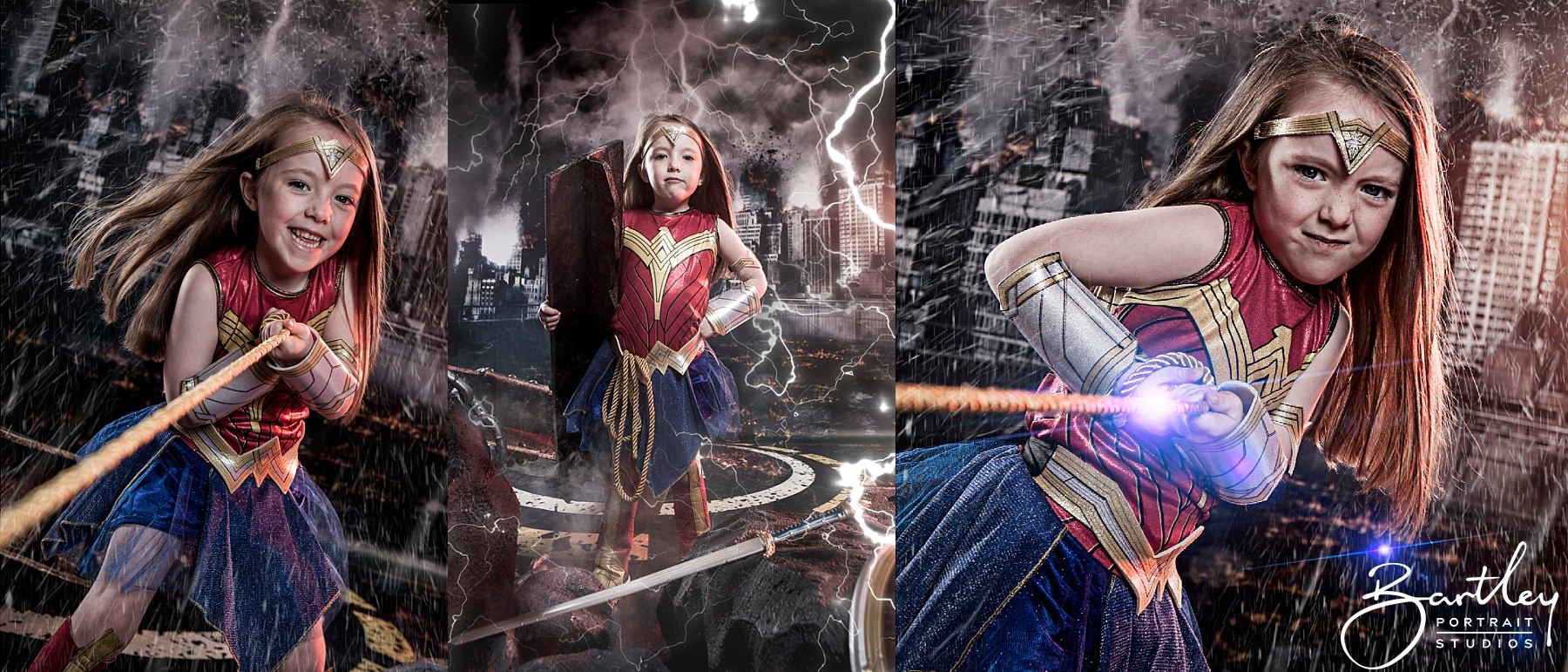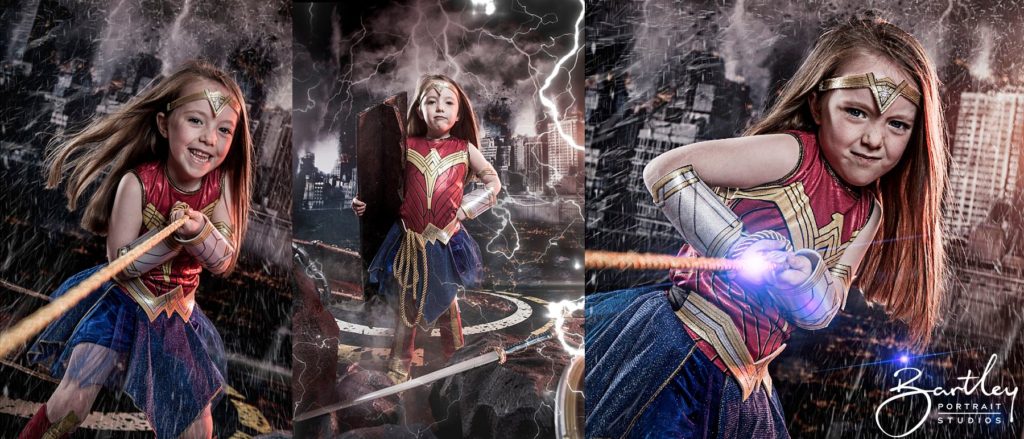 What did you think of the studio set-up and props?
We thought that the set-up was fantastic.  The waiting area was spacious and bright and it had images on a screen of previous photoshoots.  There were books and activity sheets that helped occupy Isabella. There was plenty of space in the studio and a really nice ambiance; there were sofas for us to sit and watch while the photoshoot took place and this helped Isabella as she could see us.  The props were amazing, more than we expected, and there were a number of back drops depending upon which character you were.  Plenty of time was available for all props to be used and to make sure that any ideas we had were captured.  During the whole photoshoot there was music, which you would associate with superheroes, playing in the background.  This really added to the atmosphere and was a great effect.  The preview room had a large screen and cinema style seats for you to see your screenshow.  Everything about the place was nice and relaxed.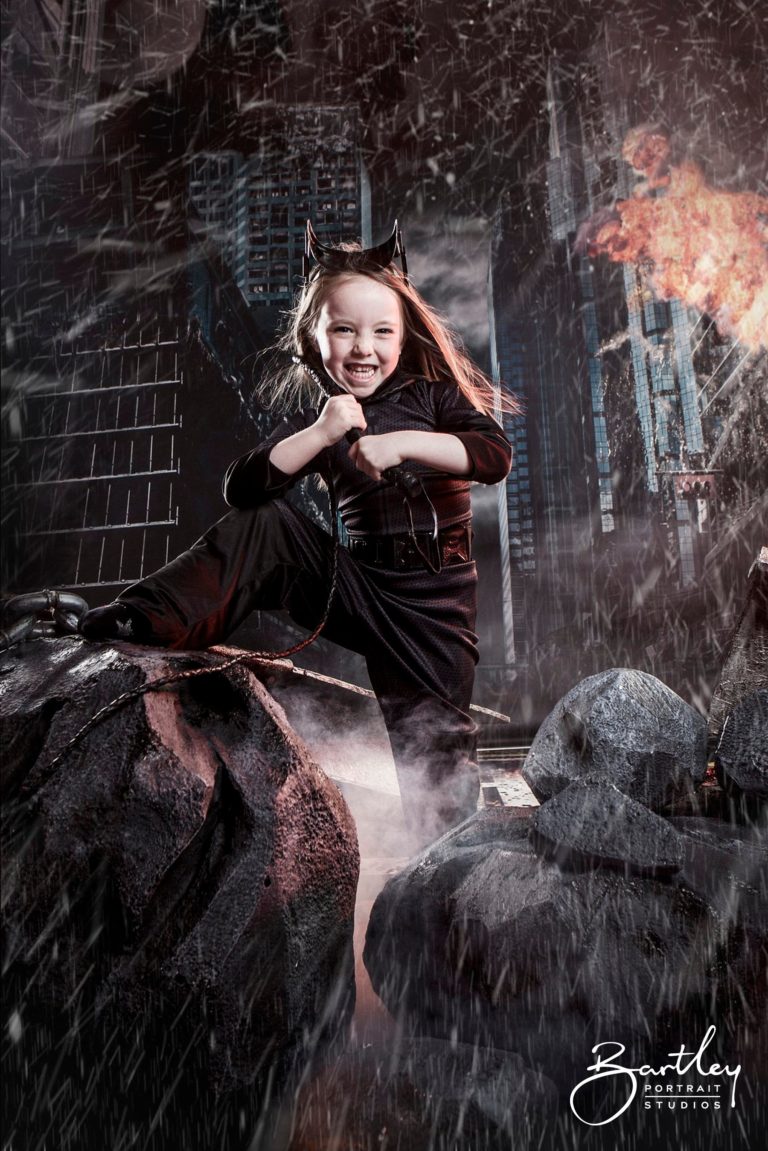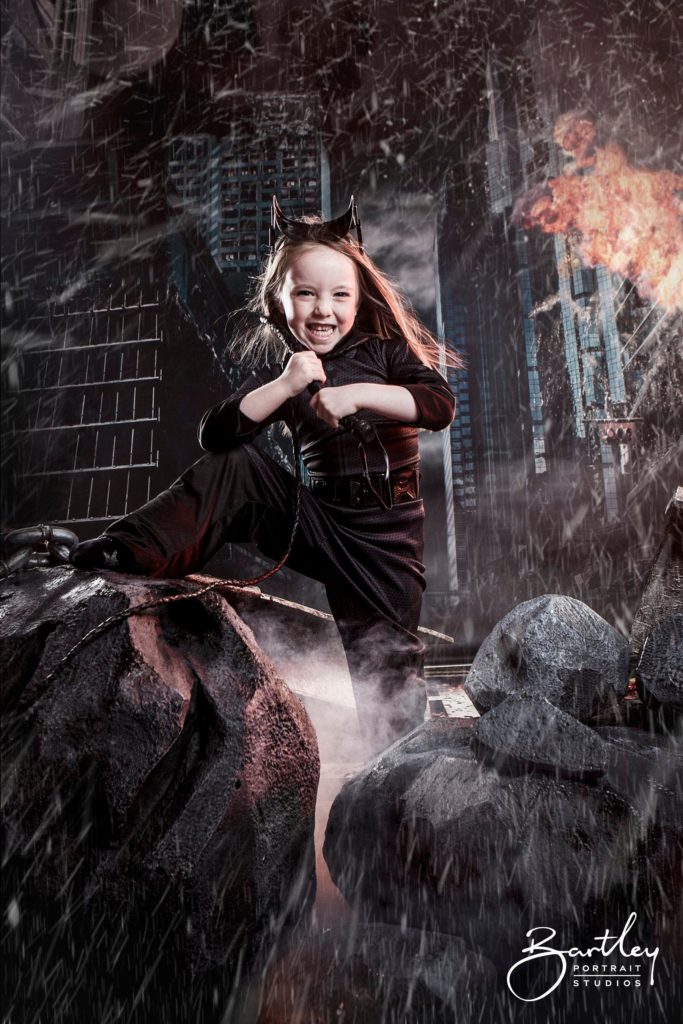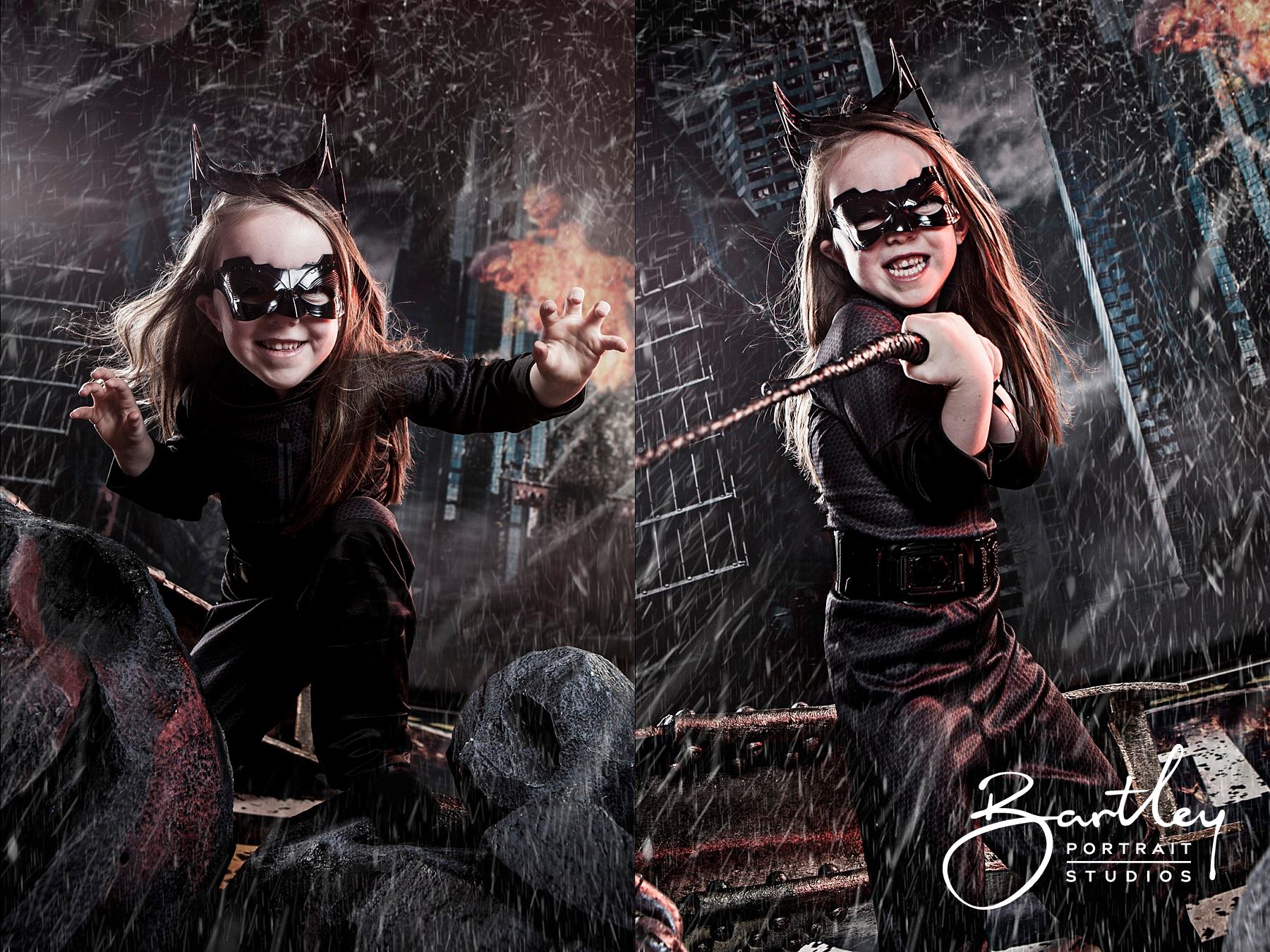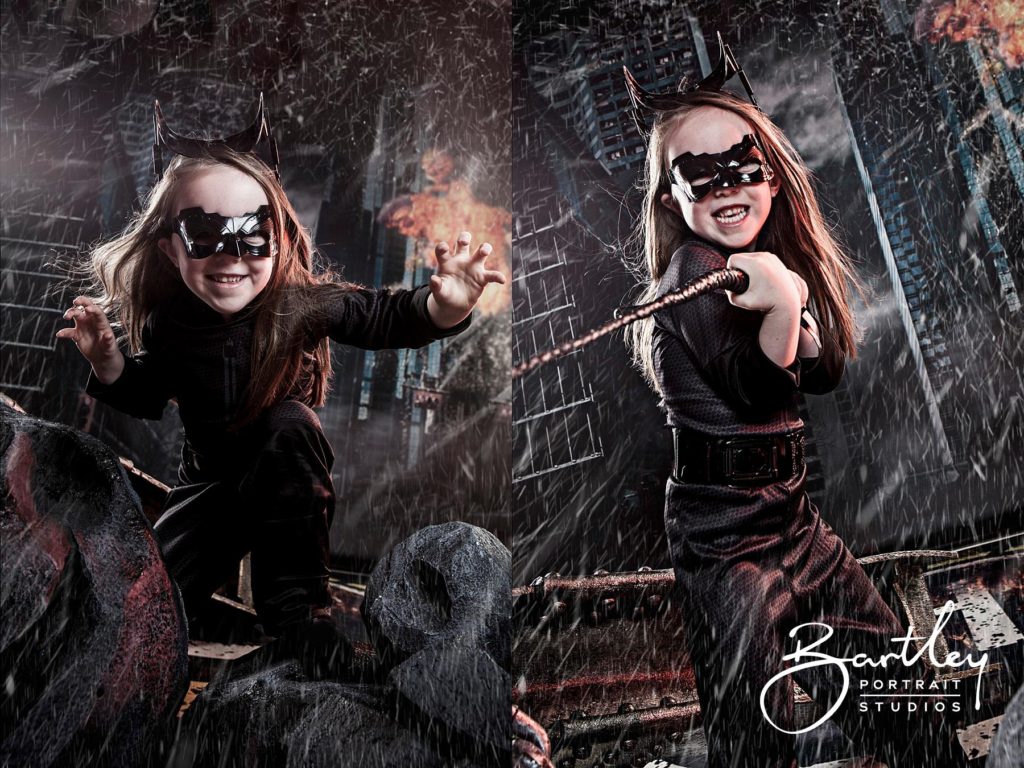 What was your favourite image overall?
We had too many to choose from which is why we took a long time; we were never pressurised into any decisions or over the time we took to make a decision.  I was really pleased in that the image I had in mind was delivered and was far better than I had hoped; this was the one where Isabella was Wonder Woman and has a sword over her head and it looks like she is climbing out of rubble.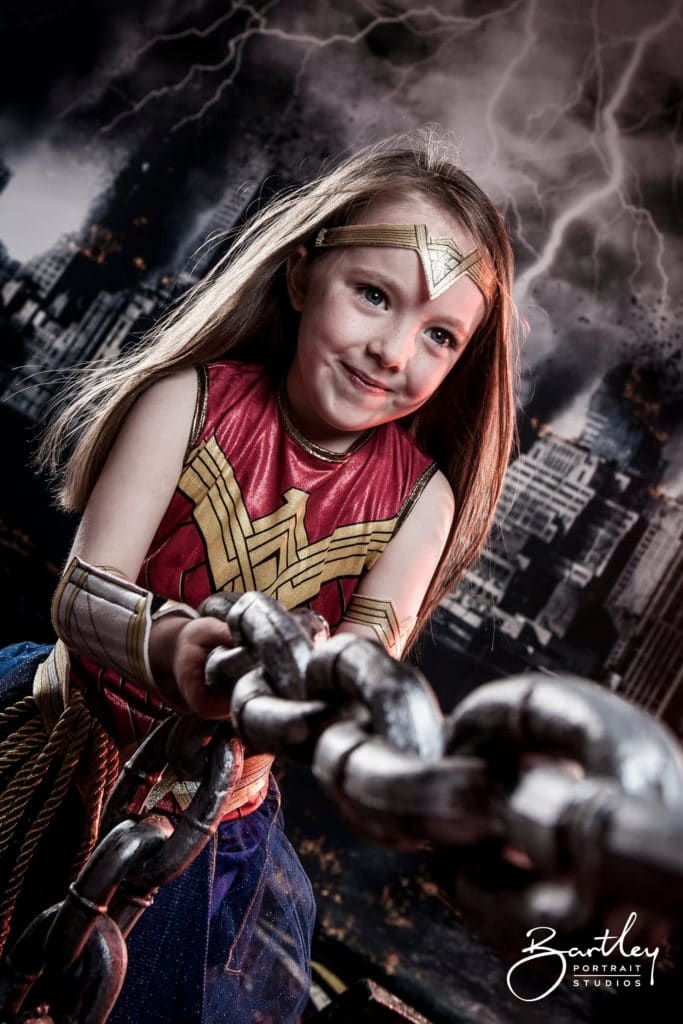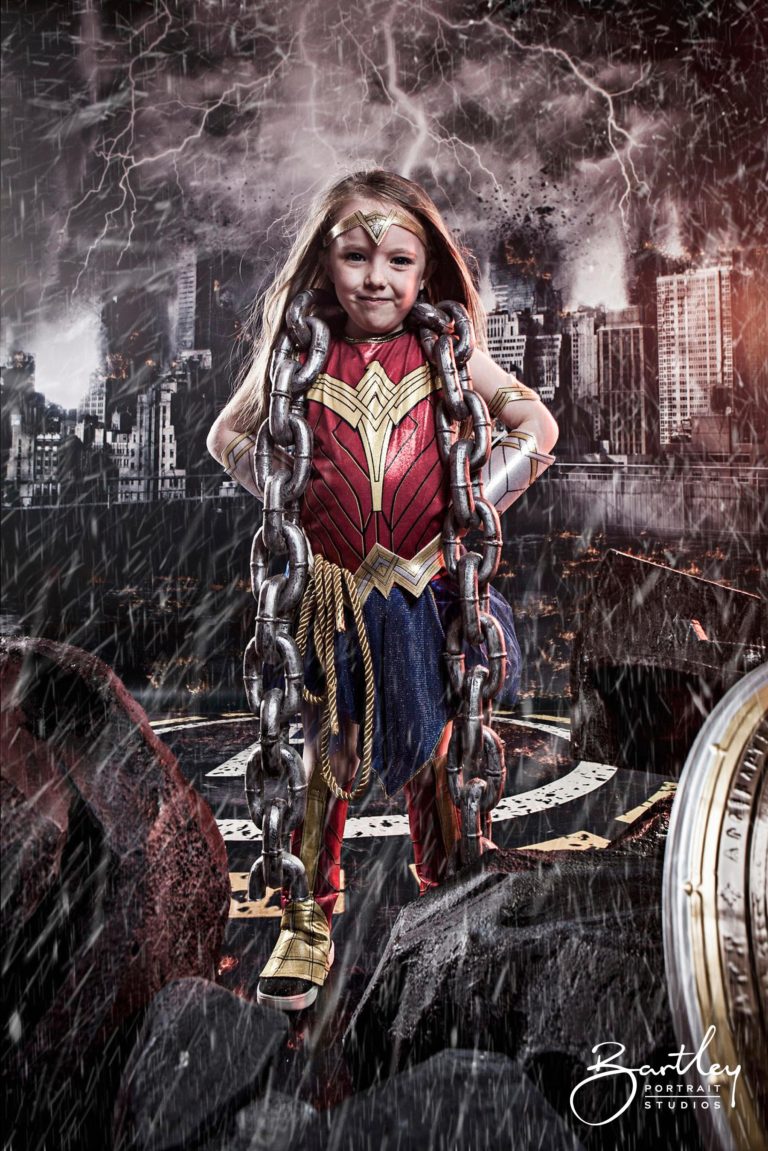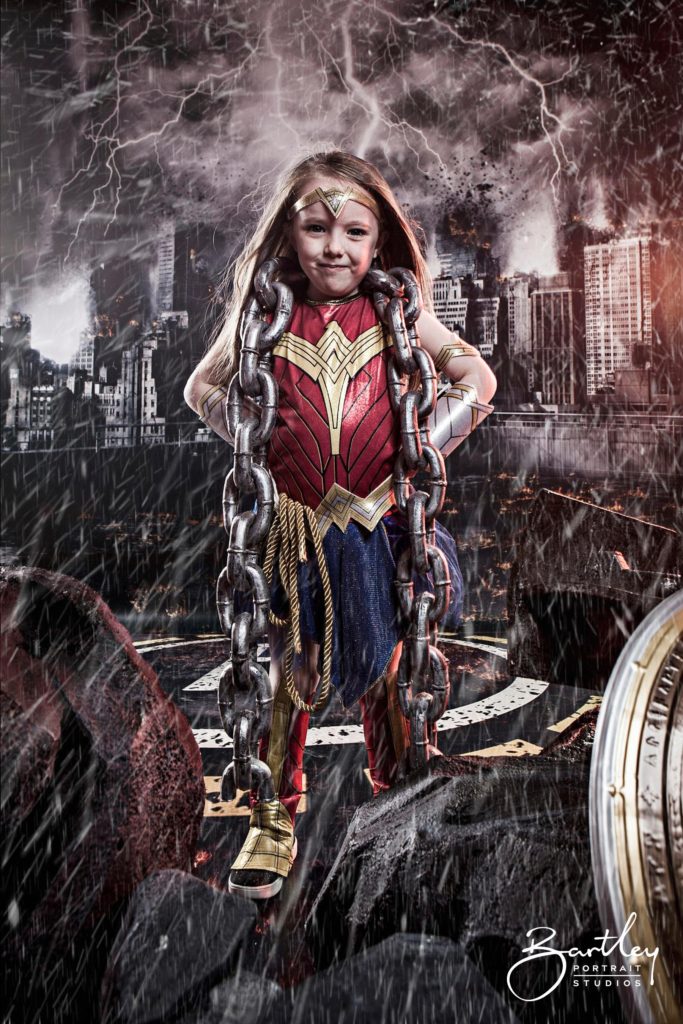 Were you worried about any parts of the session beforehand and if so what?
Isabella was excited to do the shoot but had some nerves due to not knowing what to expect, she asked a lot of questions in the car going to the shoot.  There was nothing at all to worry about, the staff were amazing and friendly and Chris the photographer put her at ease straight away, bringing out Isabellas character, which Chris captured brilliantly.  Any fears that we had that Isabella may be nervous and become shy were for nothing, she loved it and threw herself into it.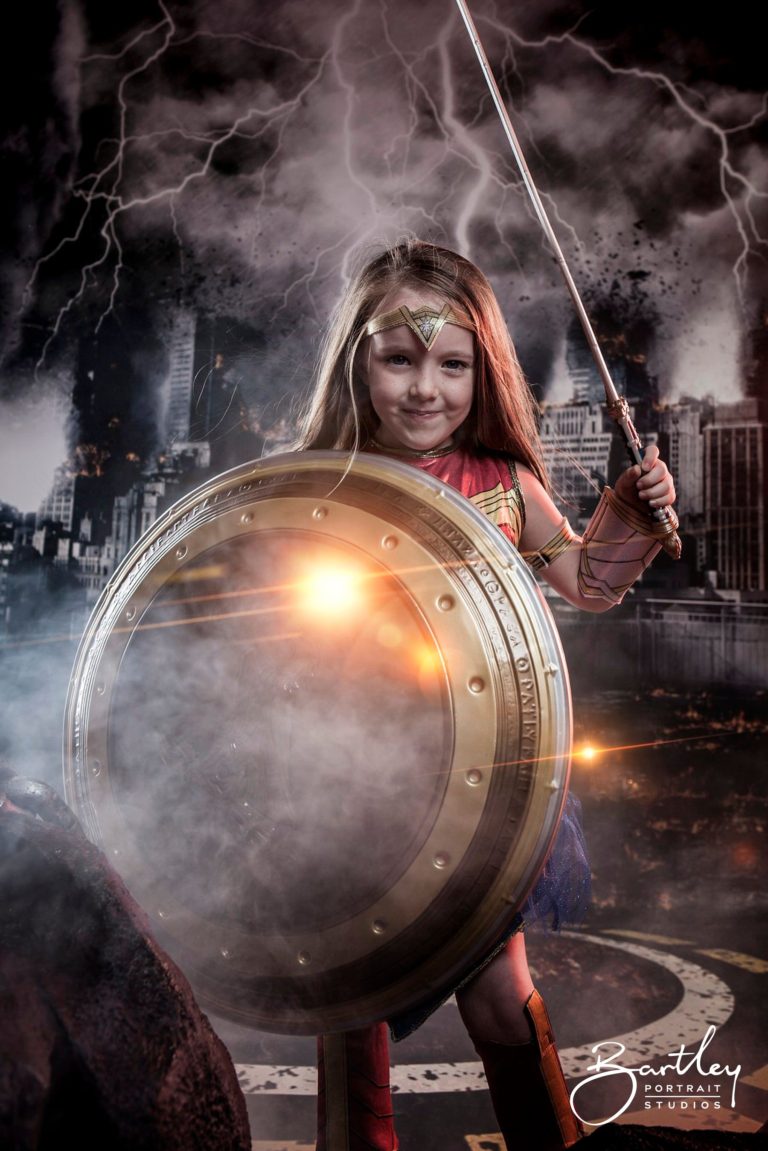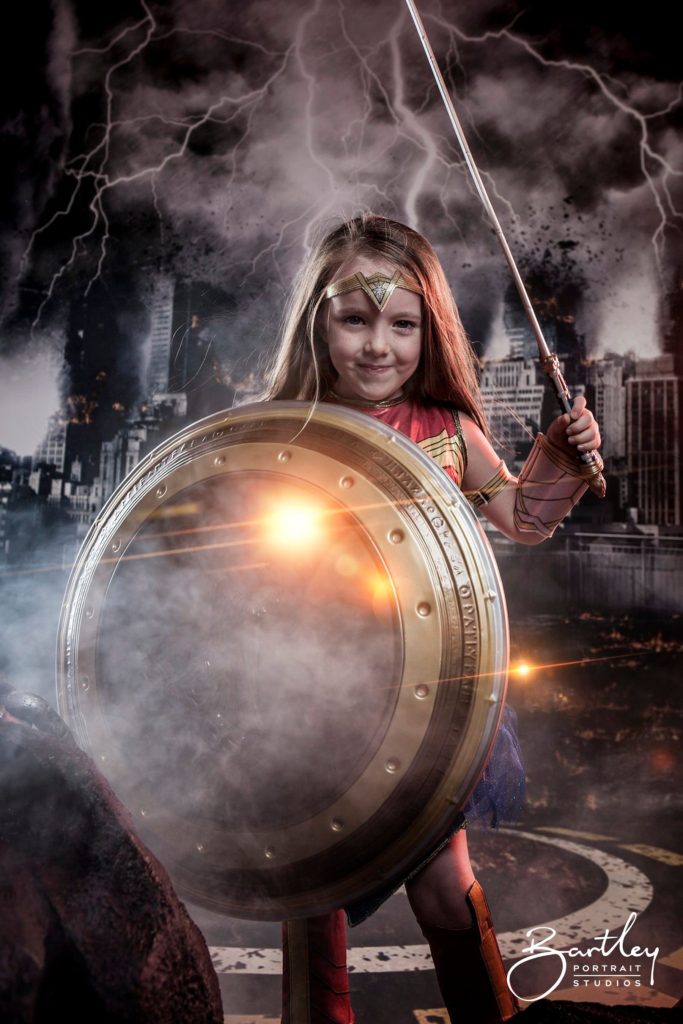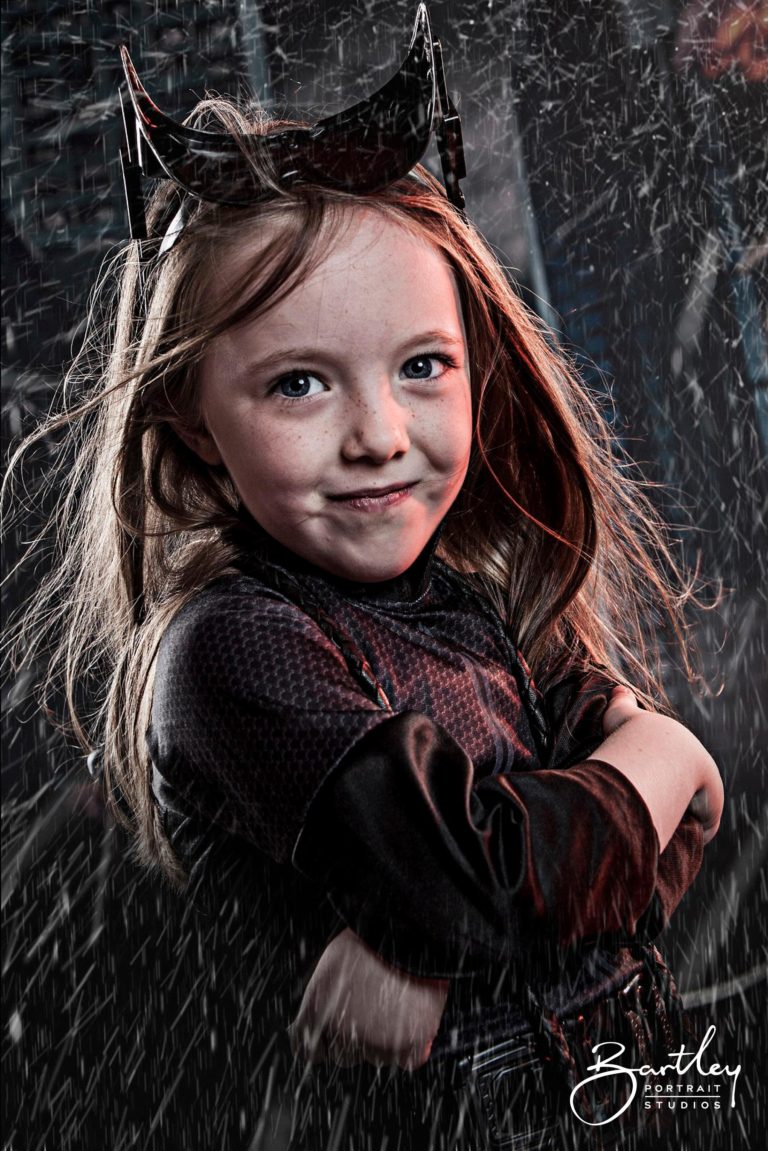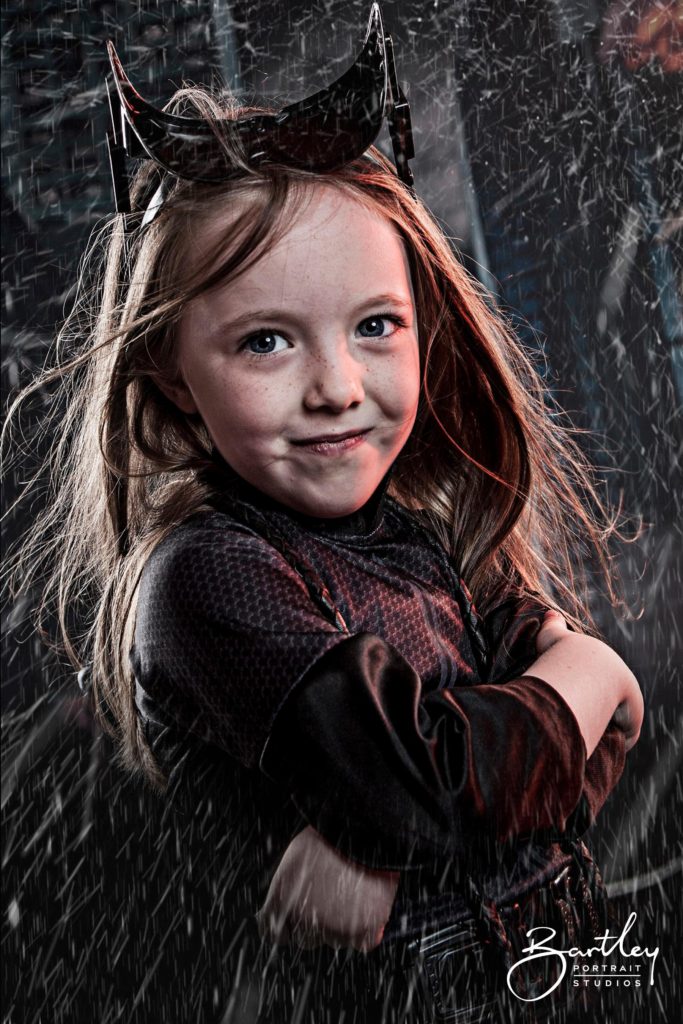 Tell us about the favourite parts of your experience and why you enjoyed them
It was an unforgettable experience and seeing Isabella being so happy doing the shoot is a memory that we will cherish.  The facility and staff made the experience so easy and enjoyable.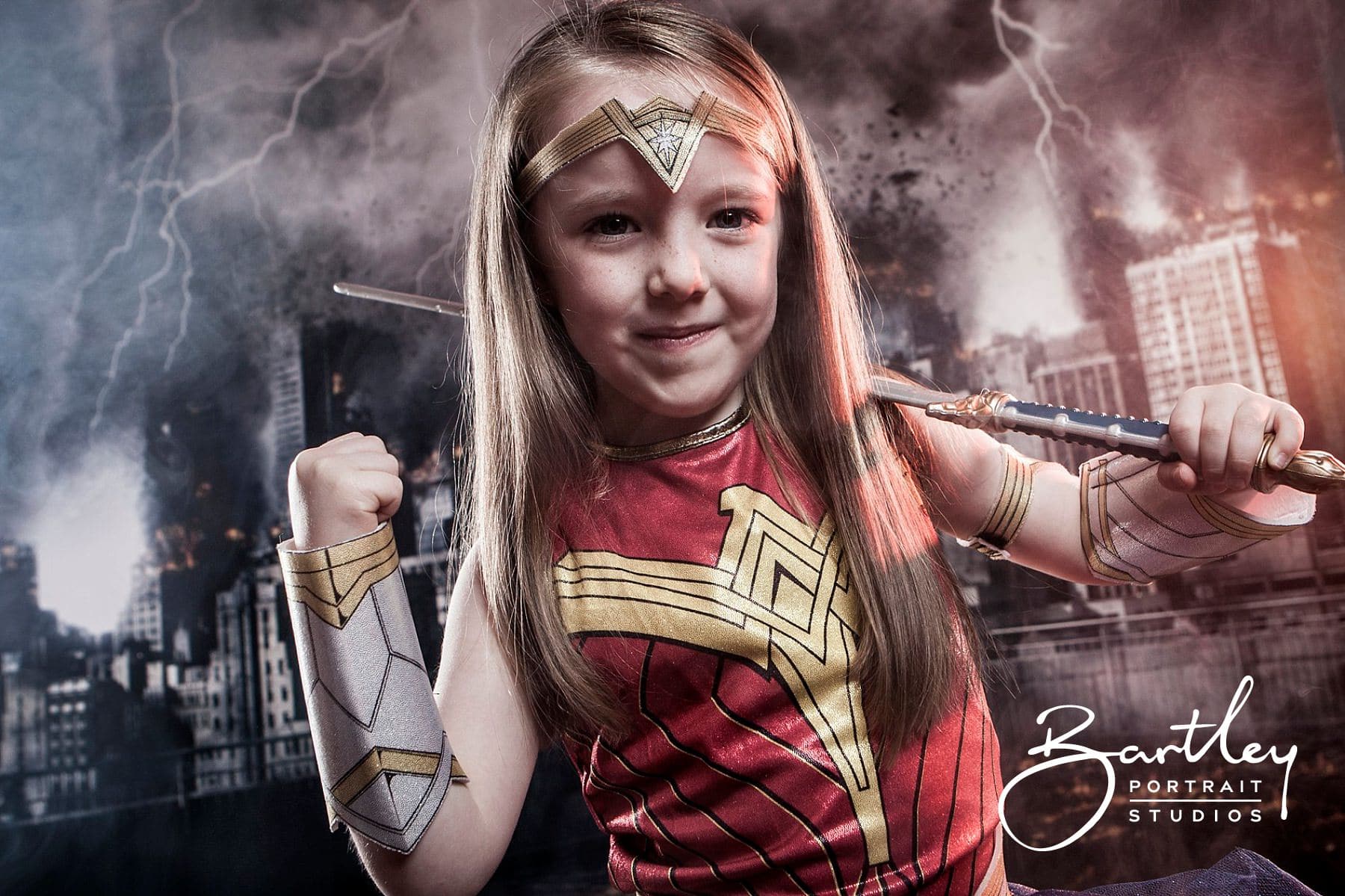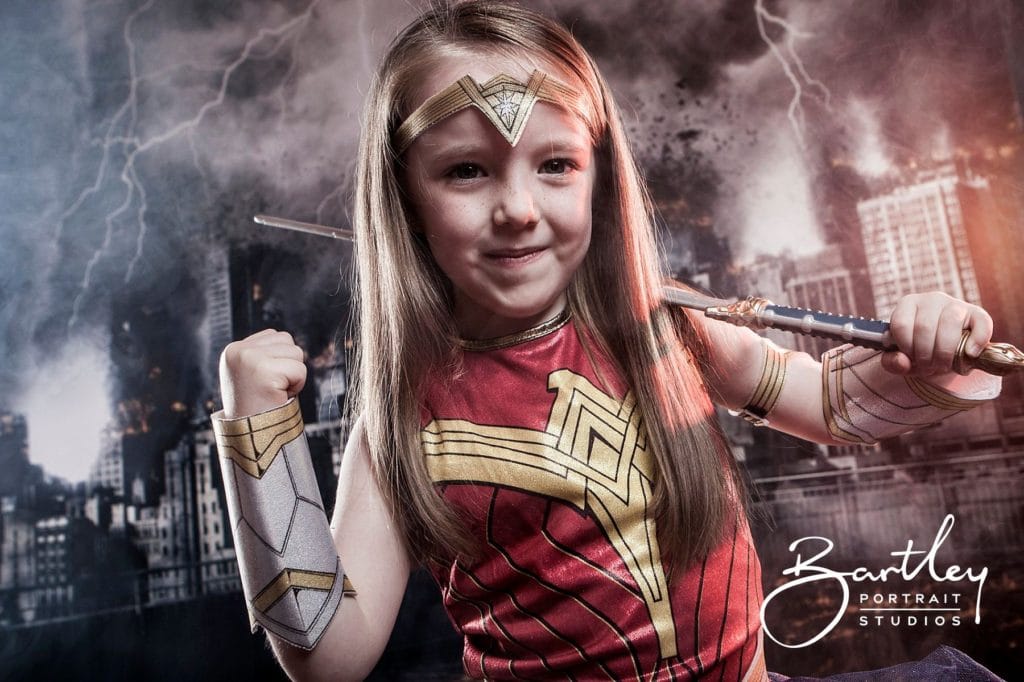 What advice do you have for other clients coming for a shoot with us?
Do it.  Immerse yourself into the experience, the more you put in, the more you get out.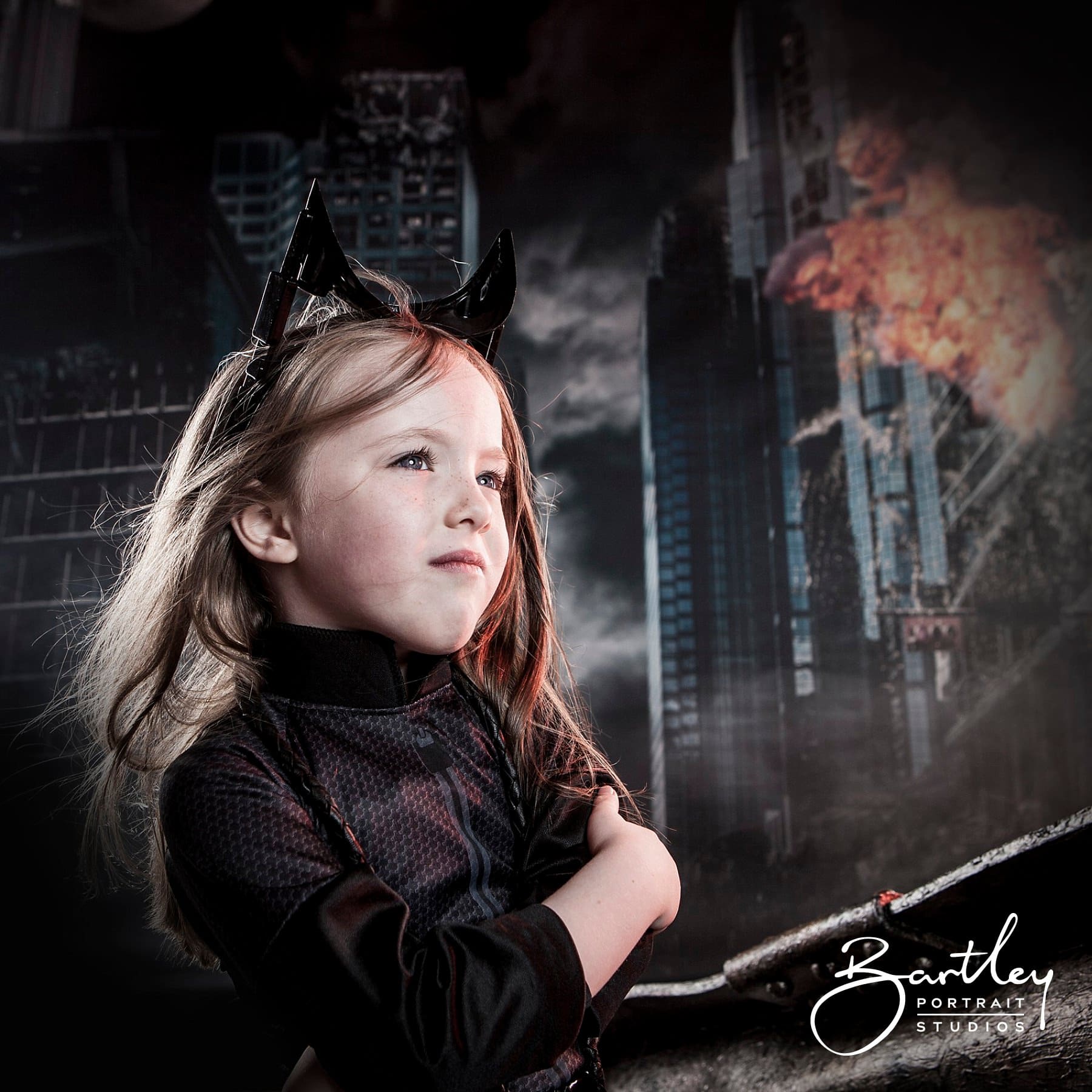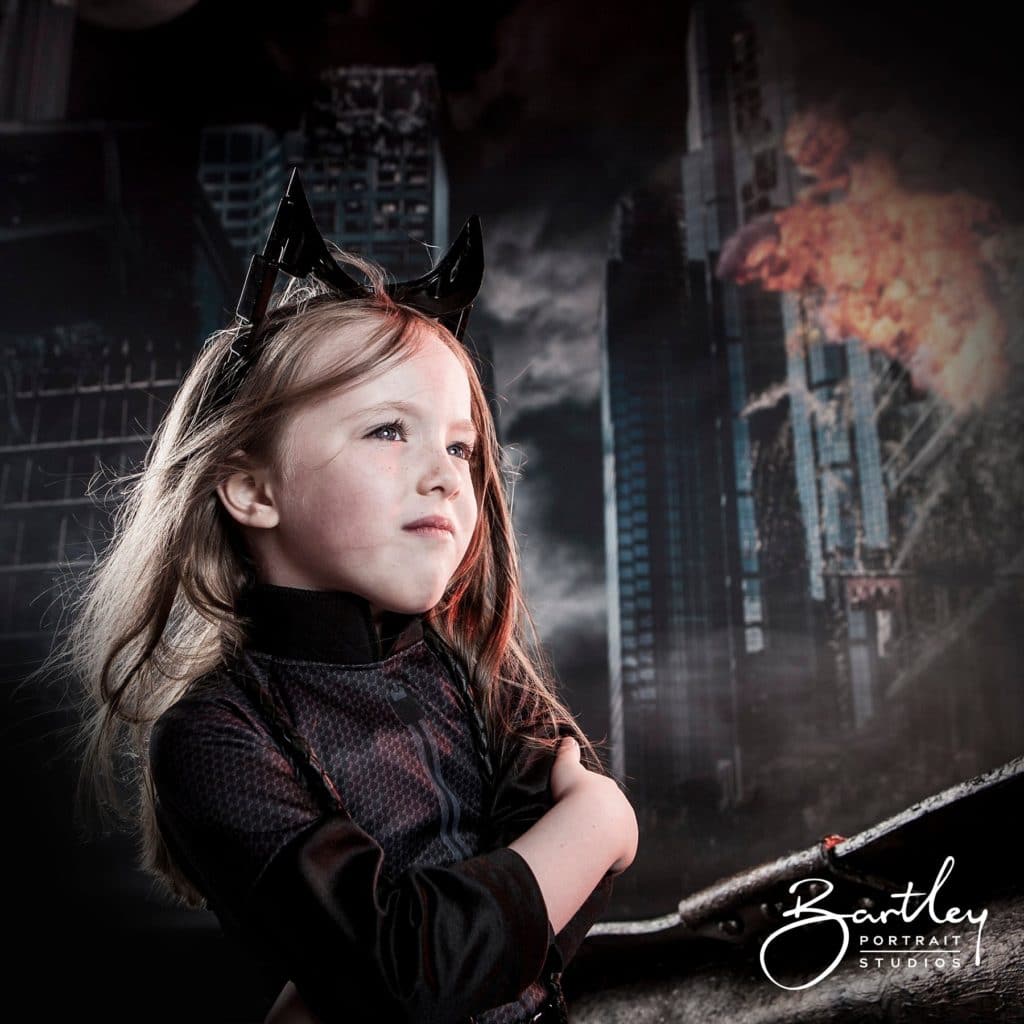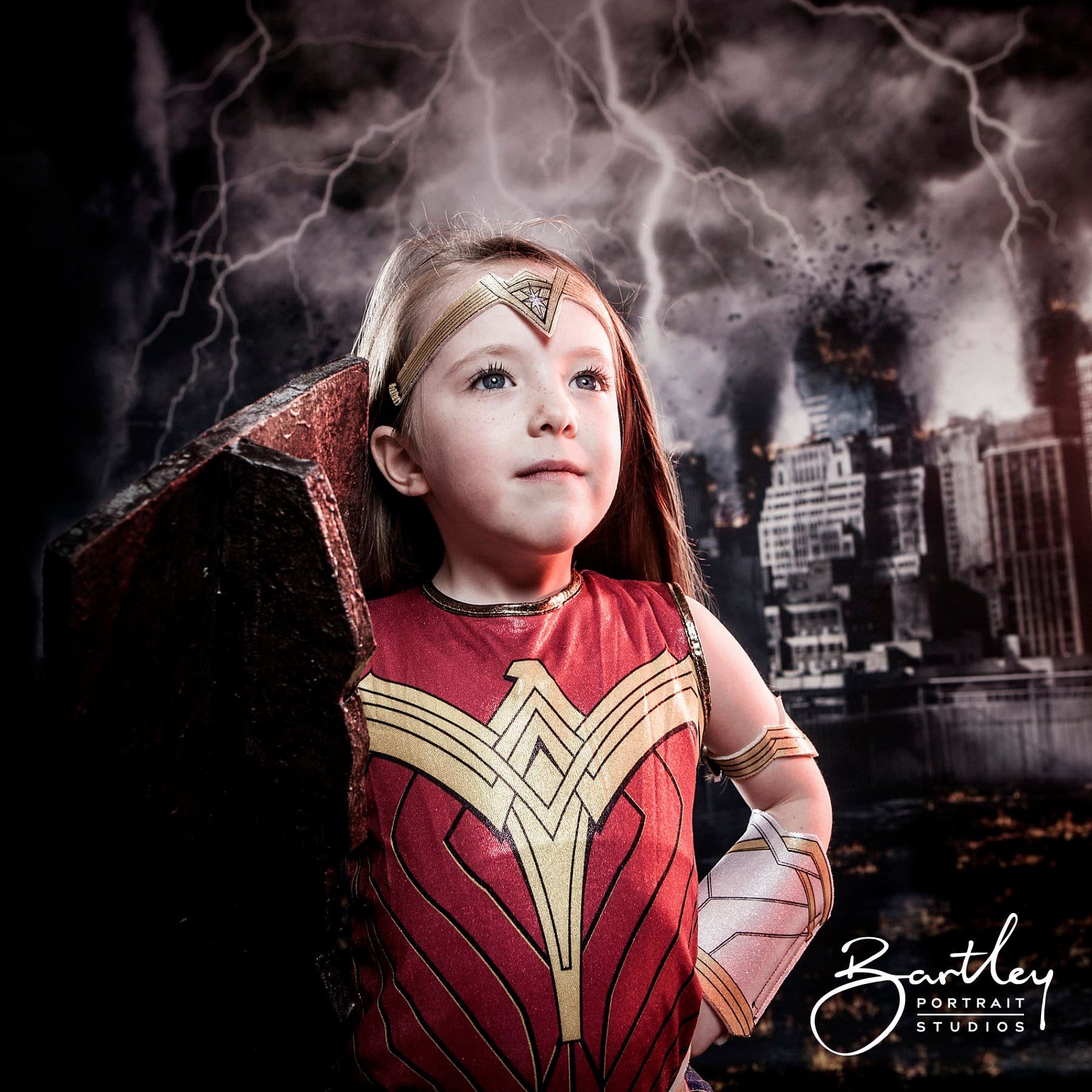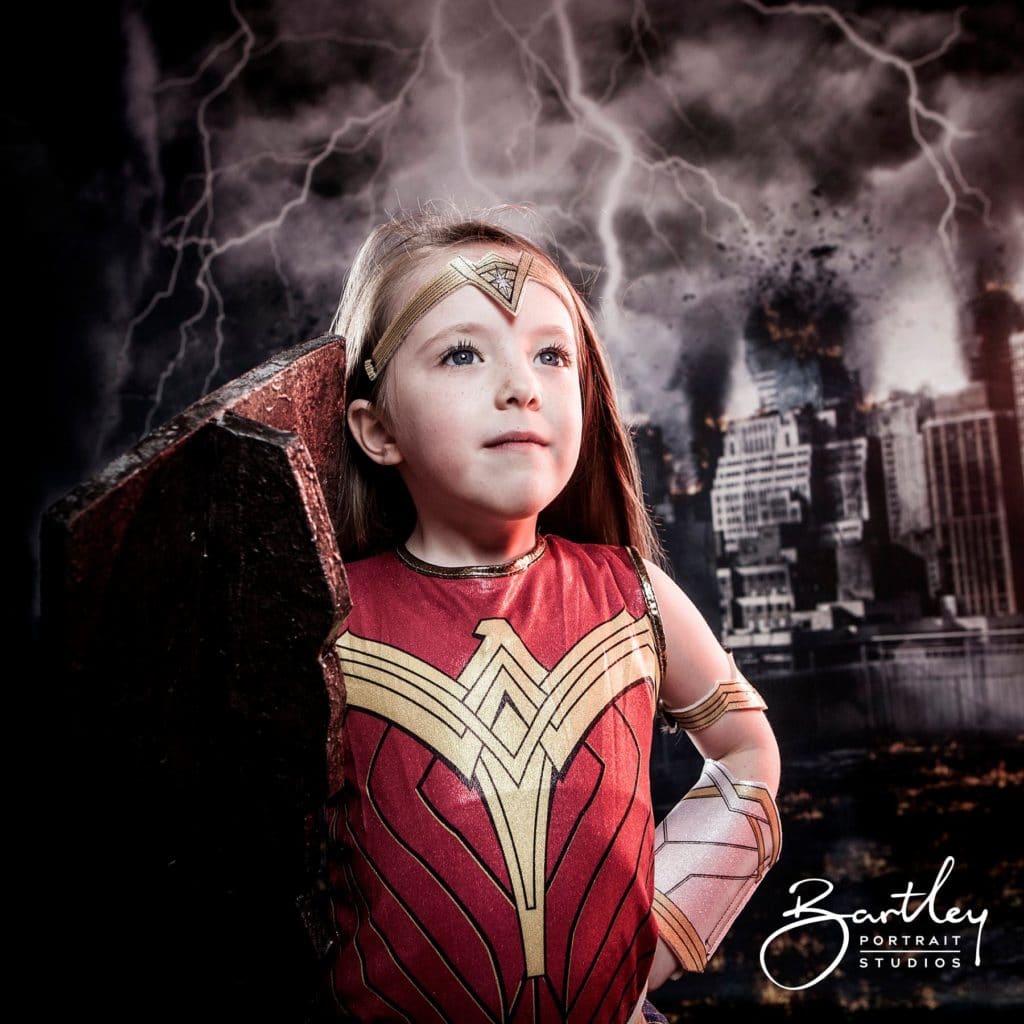 Are there any other comments that you would like to add?
I cannot say too many times how impressed we were with the set up and the staff, we have recommended the Capow shoot to so many people already and cannot wait to show the photographs.  Thank you.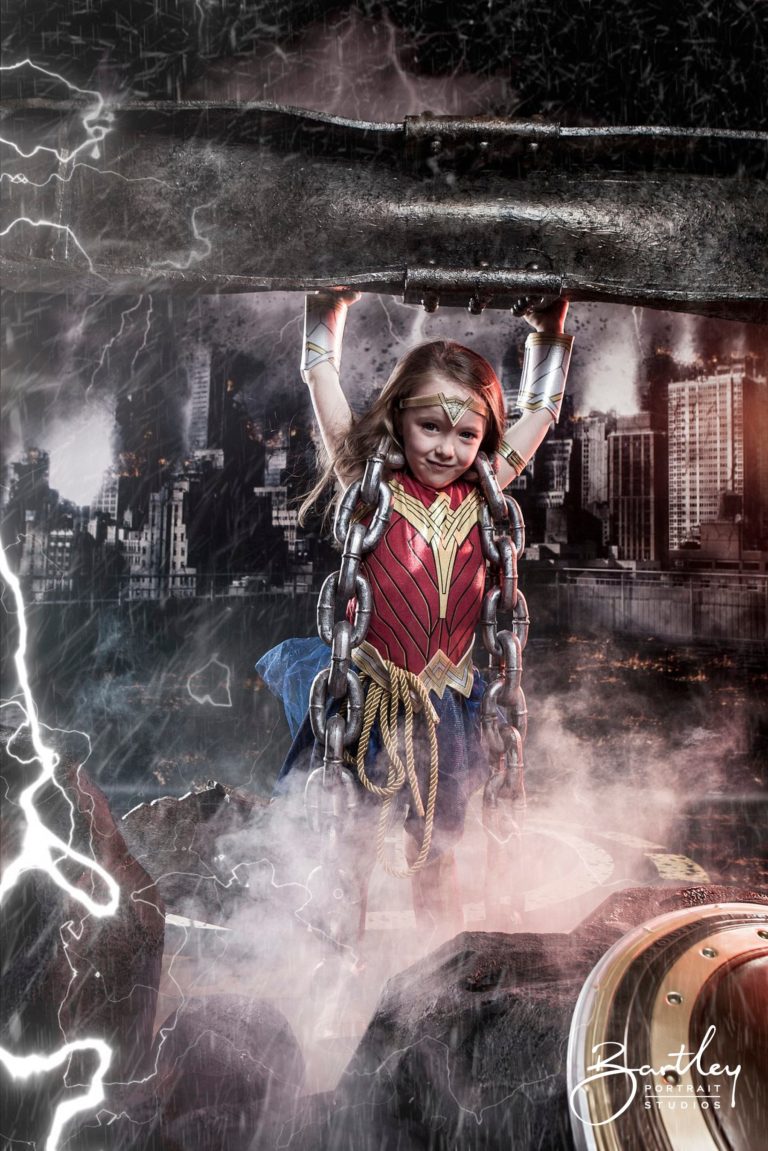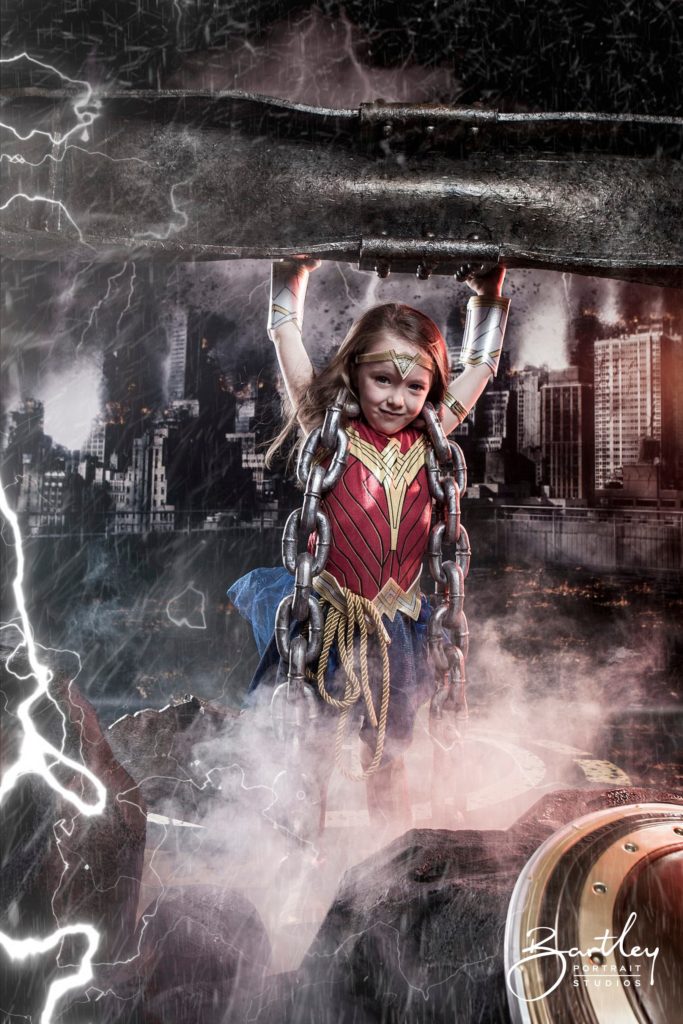 FIND OUT MORE ABOUT CAPOW! PHOTOSHOOT EXPERIENCES
CAPOW! DATES AVAILABLE EVERY SCHOOL HOLIDAYS