What were you looking to achieve from your shoot with us?
With there being 6 of us we find it difficult to get nice photographs of all of us being in a good mood at the same time and all looking in the same direction! We were hoping to get just one photograph that we could put up in our home but ended up spoilt for choice.  We wanted natural shots of us being together with natural sincere smiles from the kids.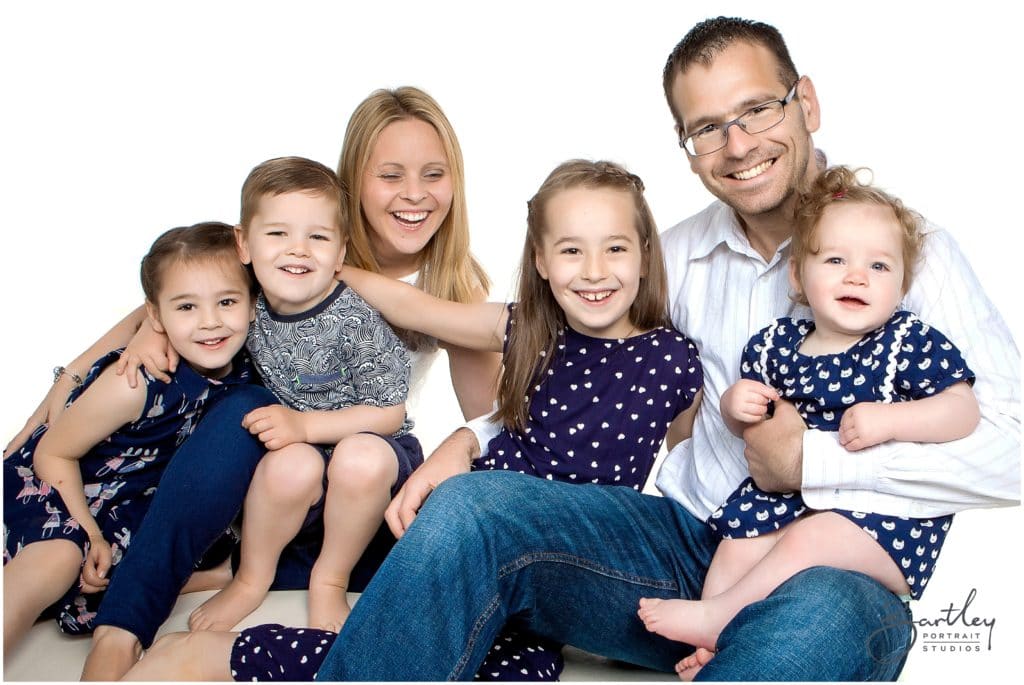 Tell us about your family

We're a very close, happy family of 6 with Mum, Dad, 3 girls and 1 boy.  A whole host of different personalities!  Our day to day life is hectic and we love the hustle and bustle of it all!  We love spending time together on fun days out with family and friends.  We're extremely lucky that all the children get on so well (for now anyway!) so they spend lots of time playing together.

Had you ever done anything like this before?
Only of our eldest two when they were younger so we haven't had any photographs of us all as a family of 6 before.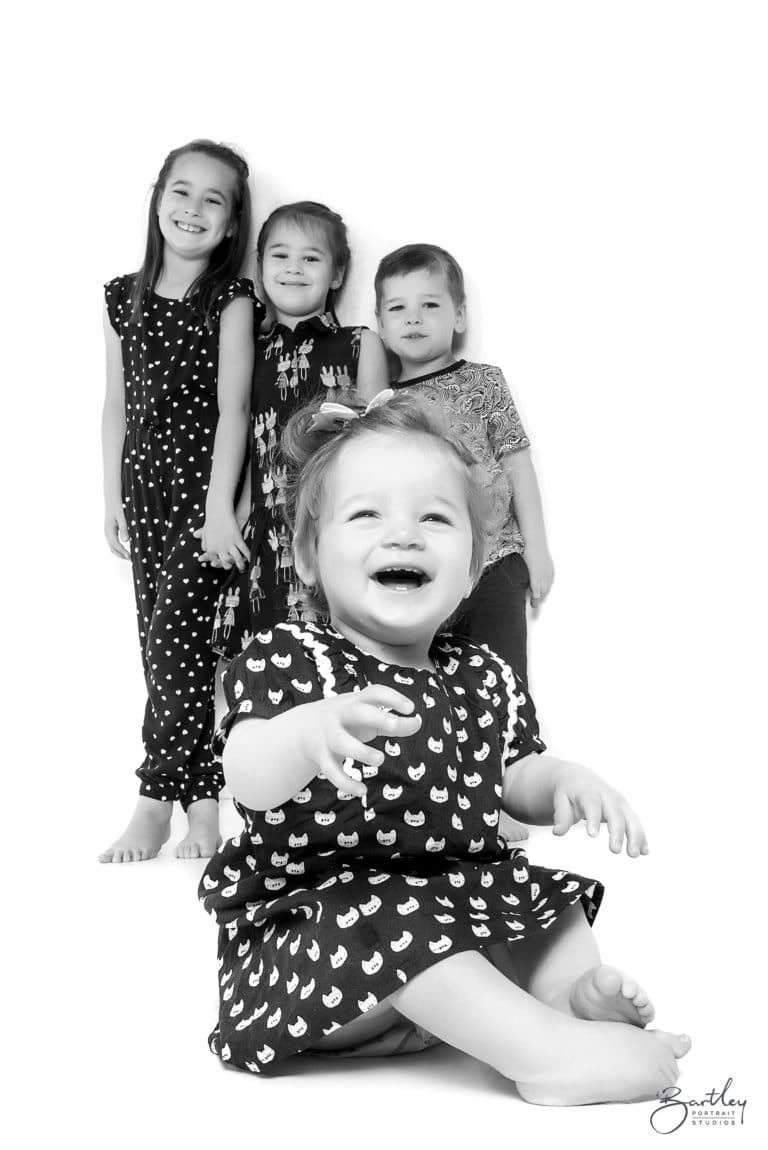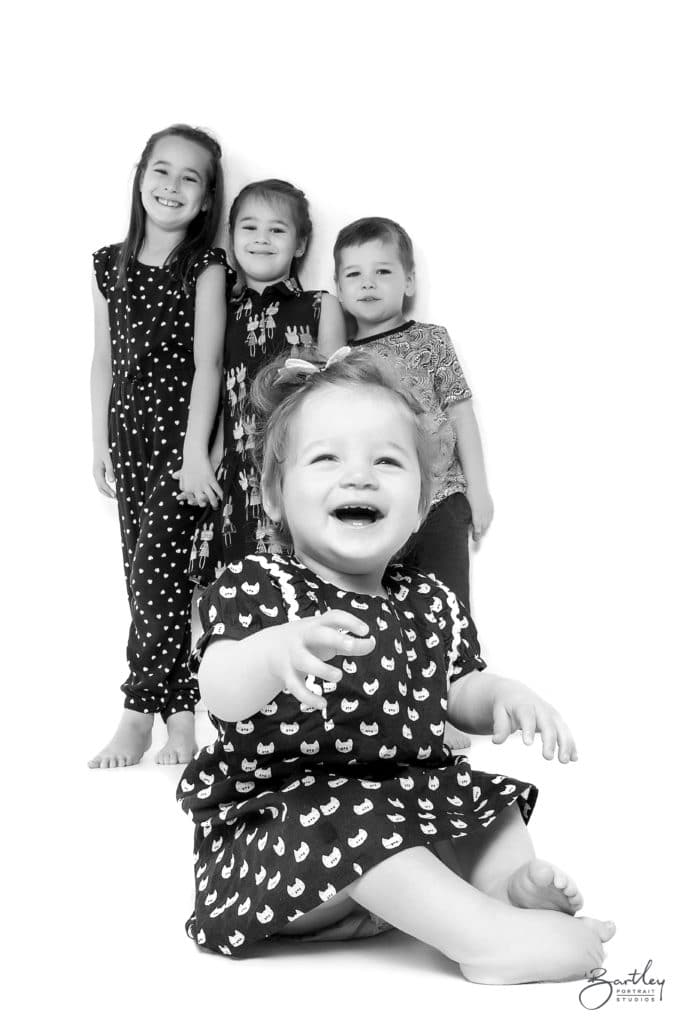 Why did you think that Bartley Studios would be right for you?
From the first phone call , I could tell straight away that it was the type of place that would suit us.  The time taken to explain how it all worked and the consideration of all of our concerns made us feel at ease before even coming into the studio.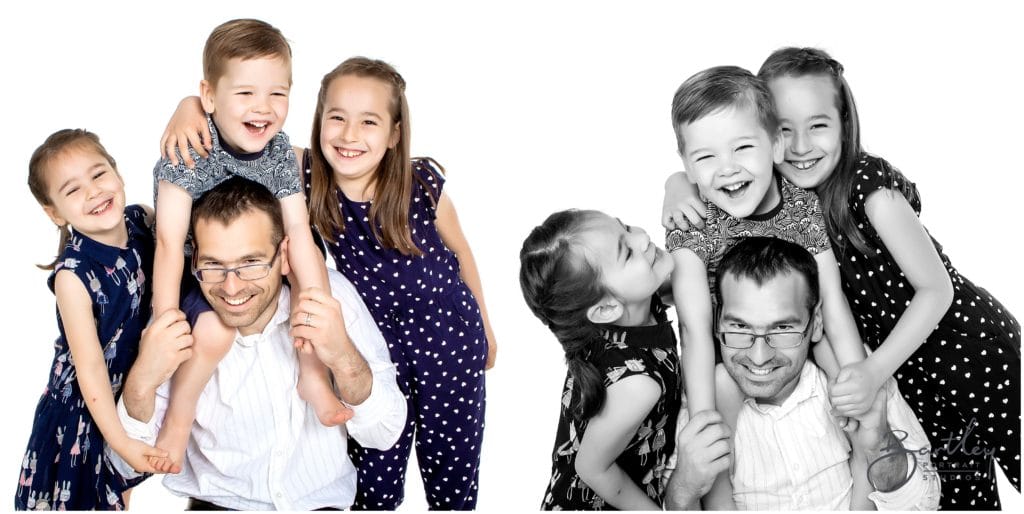 What personal items did you bring and why?
We let the children choose their own items with the only guidance being that it had to reflect their personalities.  Our eldest is a bookworm so we weren't at all surprised that she chose to bring books along as a prop or that she talked the leg off poor Chris, our photographer, about which books were her favourites!  Our second eldest loves looking after her dolls and teddies so brought along her favourite and craziest bunch to pose with.  Our boy chose a great selection of dinosaurs and we brought along our youngest daughter's favourite dolly.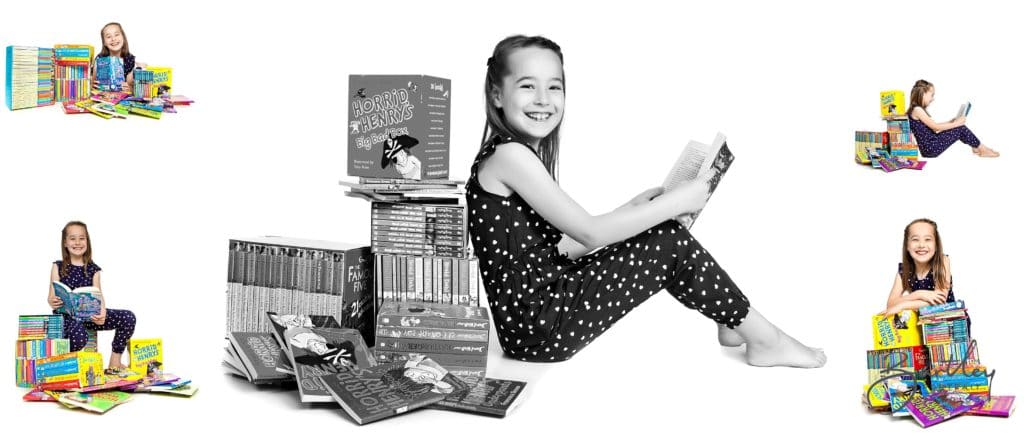 How did your photographer use your props to suit a style?
We were amazed at how Chris used the props to perfectly capture the kids' personalities.  He didn't really get them to pose with them, more that he interacted with them in relation to their props.  We love the results!  Use of the books in the photographs show our eldest daughter's quiet, studious personality whilst the teddies in our second eldest's photographs show her crazy but loving nature and the way in which they played with the dinosaurs means that our boy's fun-loving playful personality shines through.  We were amazed that he managed to get so many lovely shots of our youngest given that she arrived grumpy and teething!  He managed to capture her smiles and giggles perfectly, nothing short of a miracle!

Were you worried about any parts of the session beforehand and if so what?
Yes.  We were worried that our youngest might be too young for a photo shoot at just under 12 months, particularly given how grumpy she can be due to teething at the moment.  We were also worried that being in a studio with someone they'd never met before taking photographs may be a little overwhelming for the middle two but they were quickly made to feel right at home and loved every moment.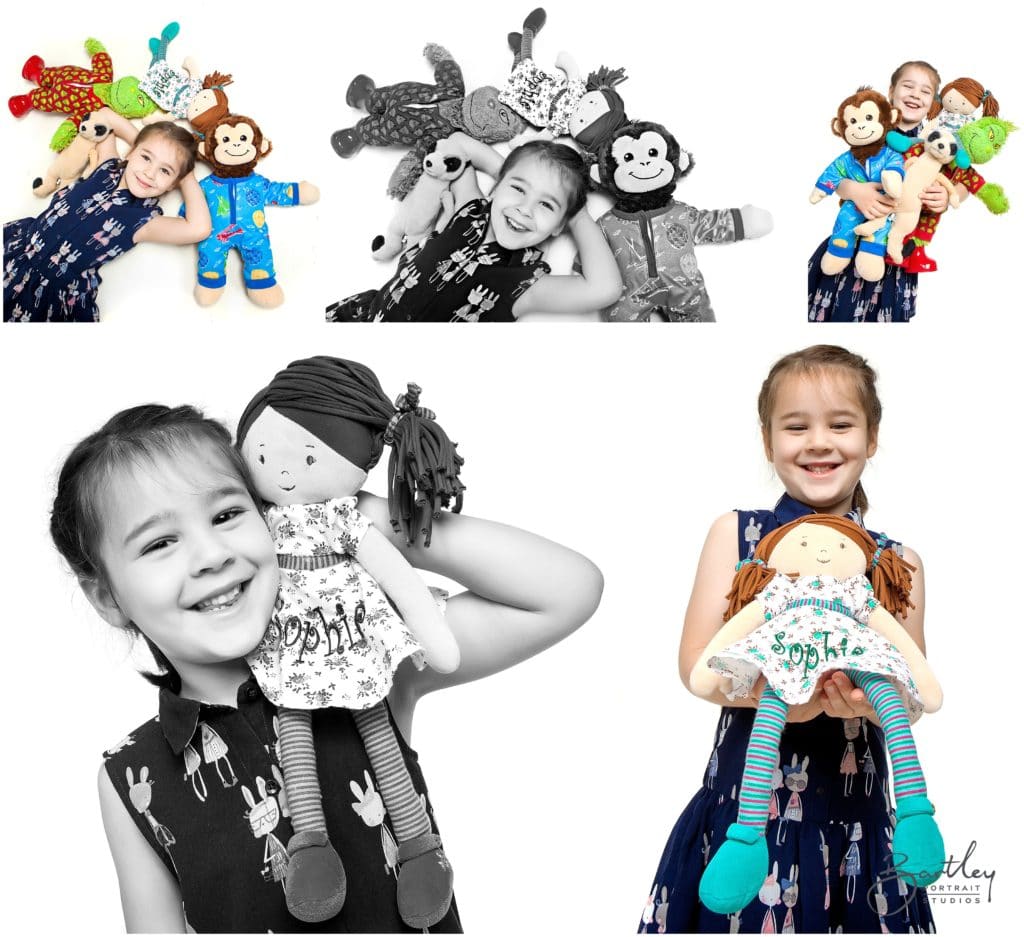 Tell us about the favourite parts of your experience and why you enjoyed them
We loved every minute of the photo shoot.  From the moment we walked in Chris, our photographer, made us all feel at ease and had the kids giggling from start to finish.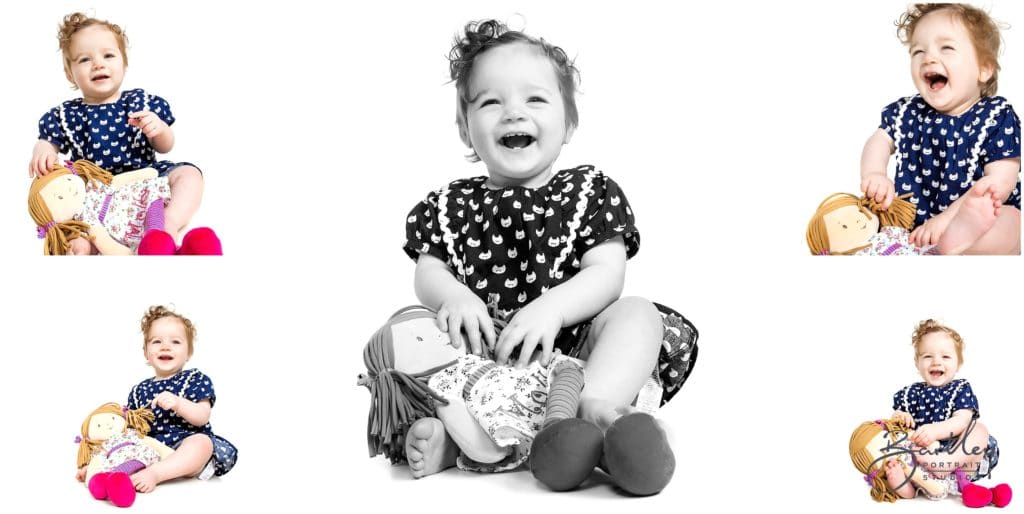 What advice do you have for other clients coming for a shoot with us?
To just relax and enjoy the experience.  Enjoy the time there and that will be reflected in the photographs.

What was your favourite image overall?
We have so many favourites it's impossible to choose.  We love the fact that we now have a good photograph of all of us together but the individual photographs of the children are a lovely reflection of their own individuality.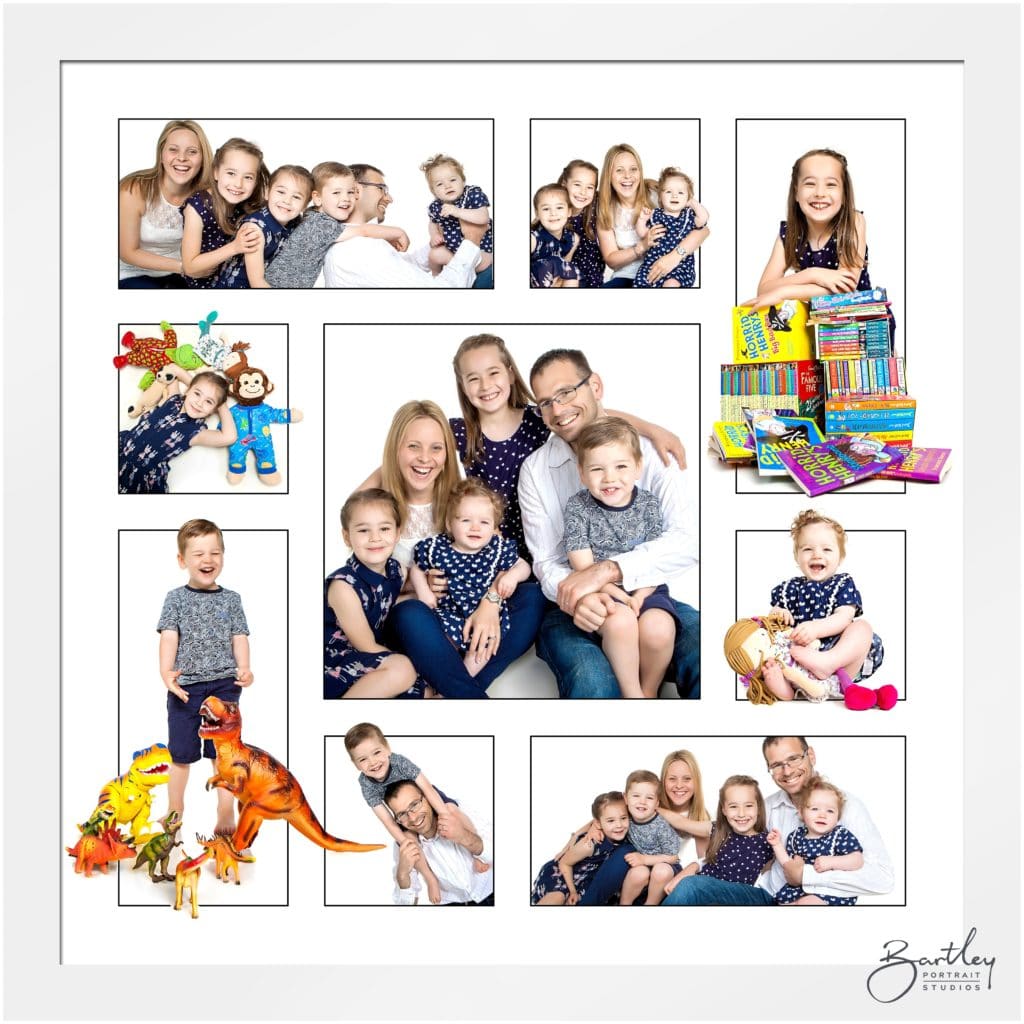 Are there any other comments that you would like to add?
Thank you for such a great day!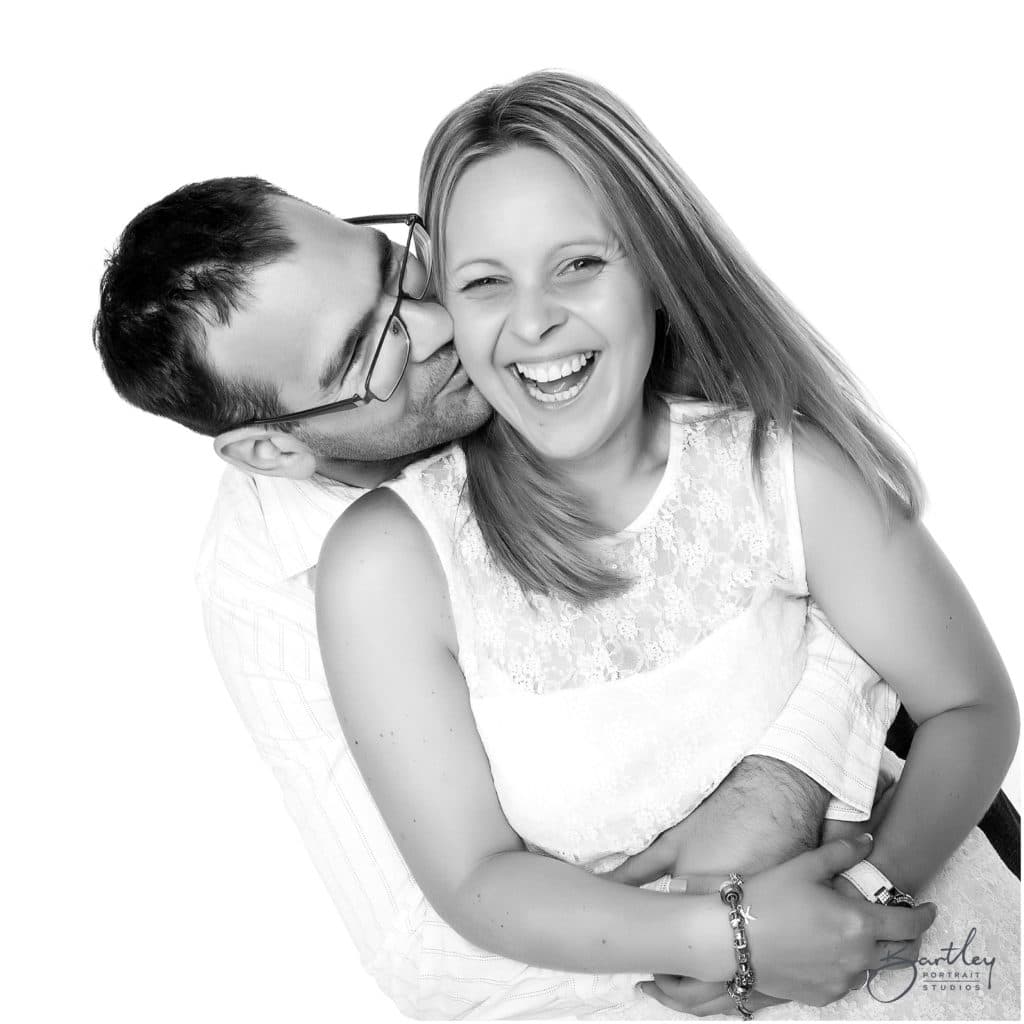 If you are interested in coming along for a photoshoot yourselves, then please take a look at the following pages…