Margaret and Ray from Wallasey visited us recently in celebration of their 30th Wedding Anniversary. It was a shoot filled with fun and laughter which truly captured them. We just had to share some of the moments!
What were you looking to achieve from your shoot with us?
We are celebrating our 30th Wedding Anniversary and wanted to create a memory that reflected our personalities and also have a record of the event.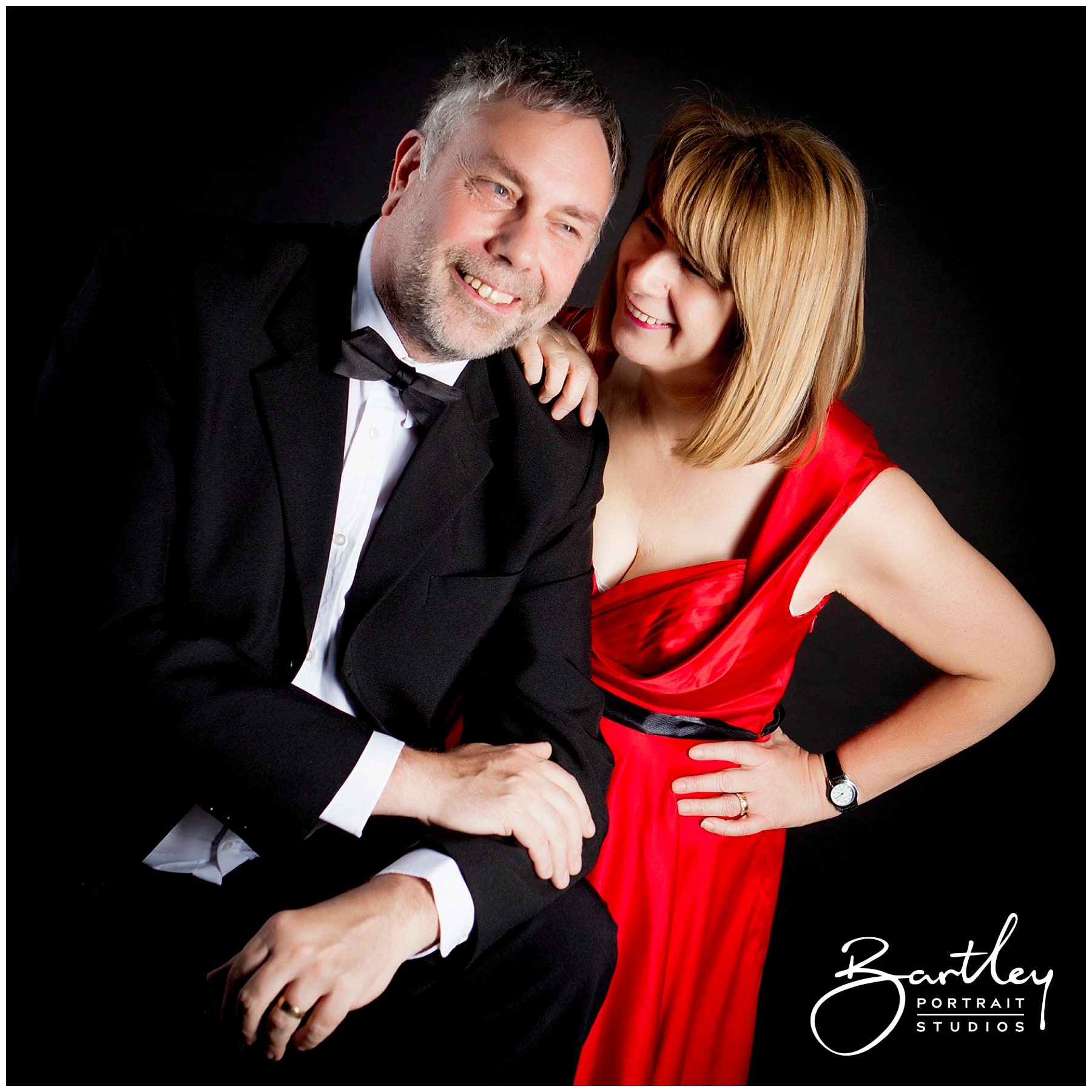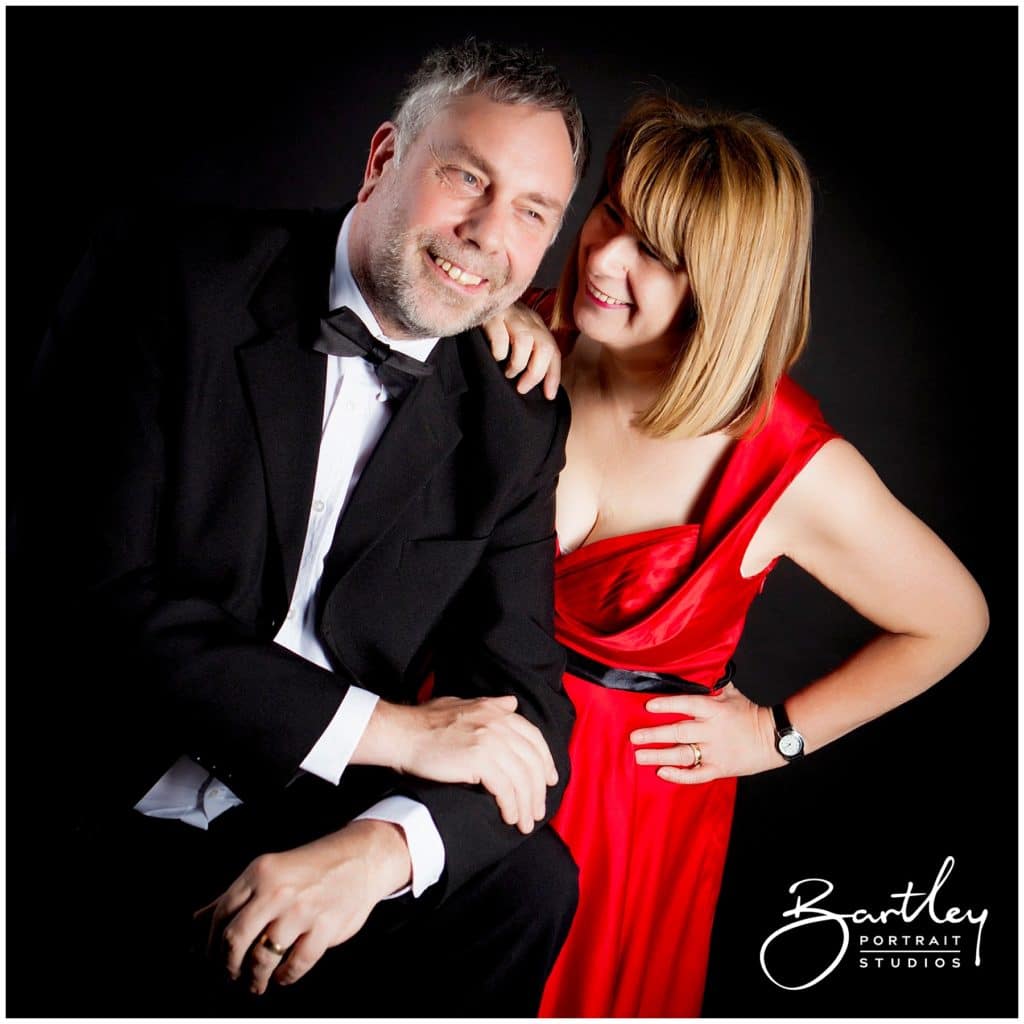 Tell us about your family
We have 2 boys, the youngest of whom has left home and the other is still with us.  We both love music and reading.


Had you ever done anything like this before?
We have done old time photos dressed as a cowboy/show girl from Arizona and have a photo of us dressed in kilts from Edinburgh, but nothing like this.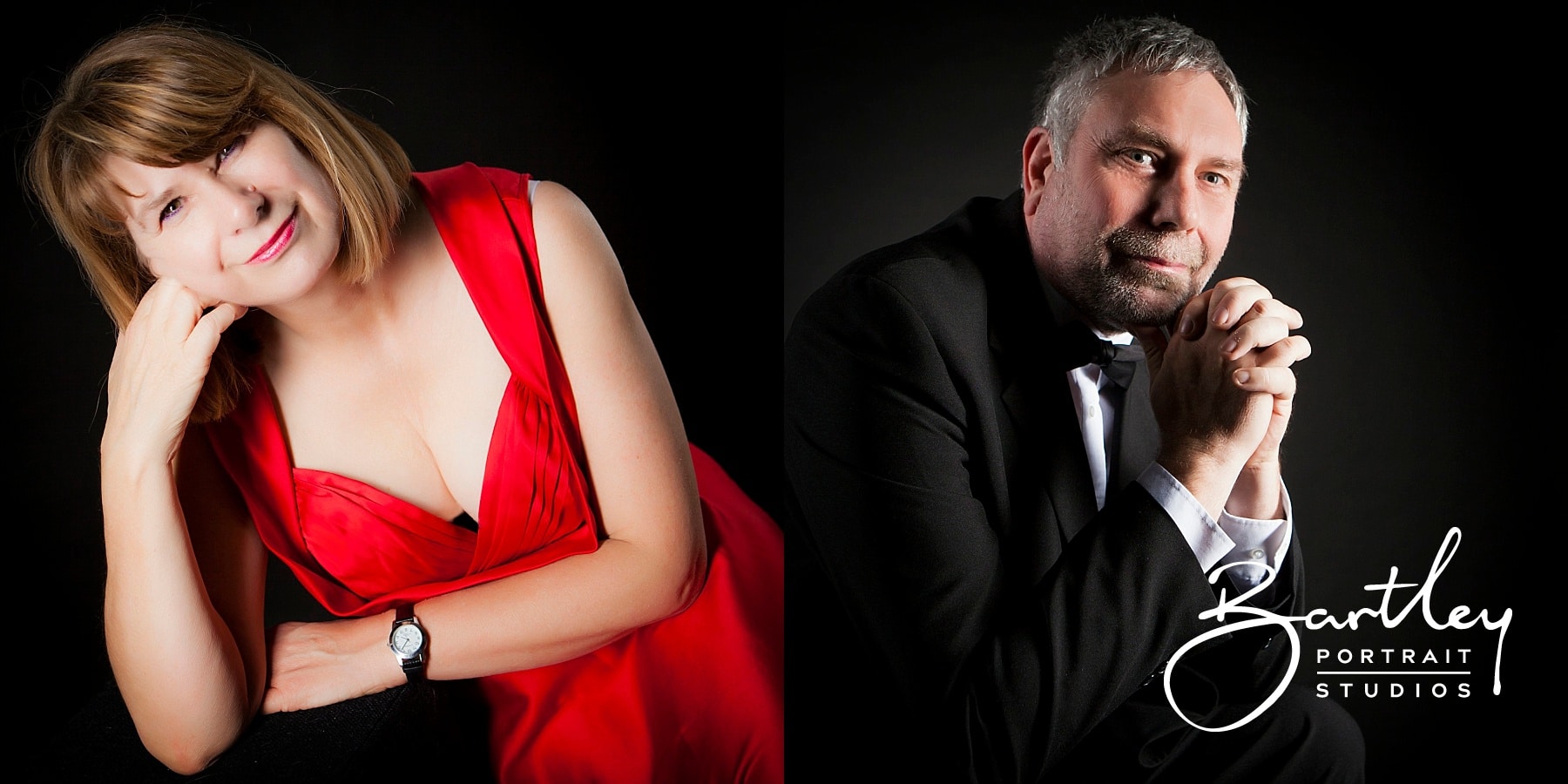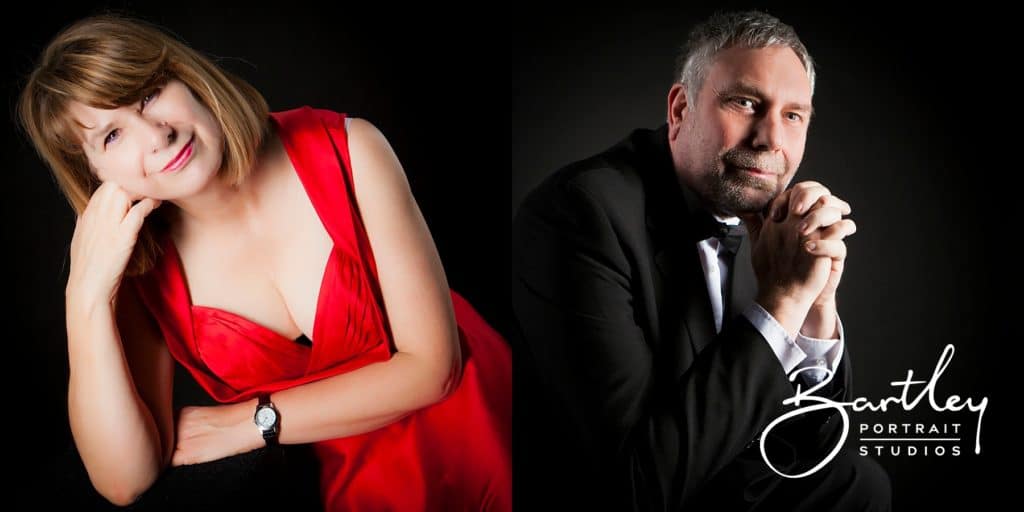 Why did you think that Bartley Studios would be right for you?
We saw the Facebook Promotion and then looked at the website and saw the stunning images on there.  We thought you might get at least one decent image of the two of us!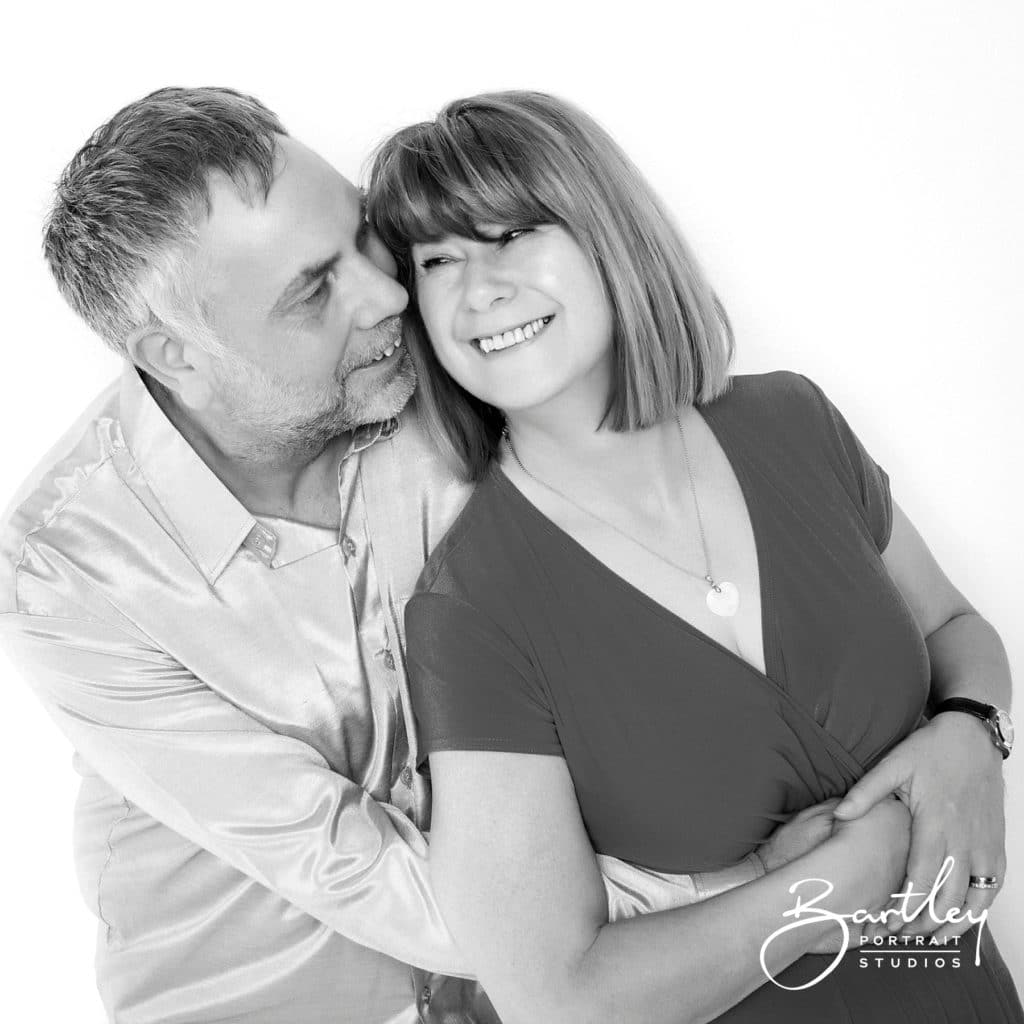 What props and personal items did you bring and why?
We made Mugshot boards, to illustrate the joke that having been married for 30 years, we could have got less for murder! We also brought Shackles, an LP, abook, a very long strand of 'pearls' plus different styles of clothes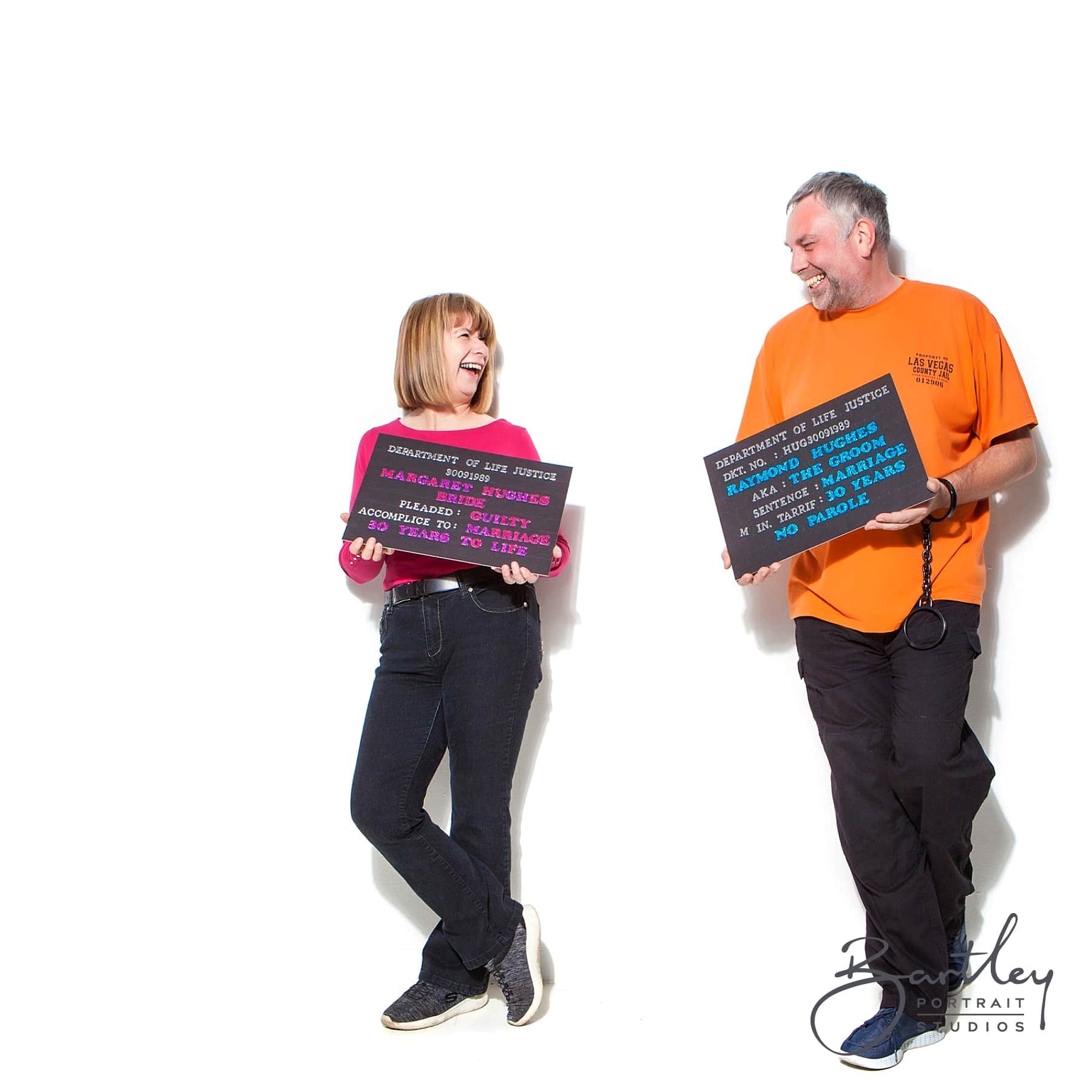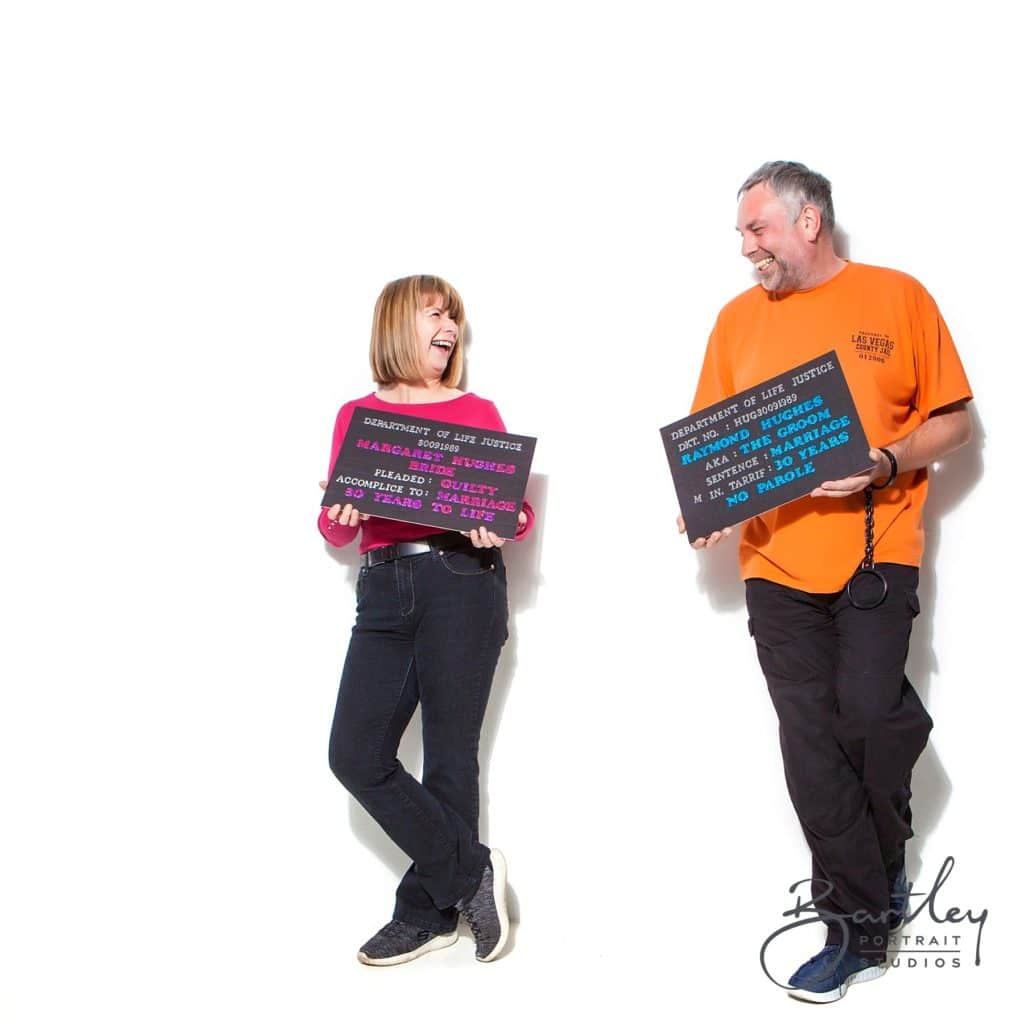 How did your photographer use your items to suit a style?
She went through props and clothes we brought to suggest scenarios to best use them for our personalities.  She also gave us direction on what expressions to use for each scenario.  It's just as well she was quick as we couldn't hold them for long due to the laughter bubbling through.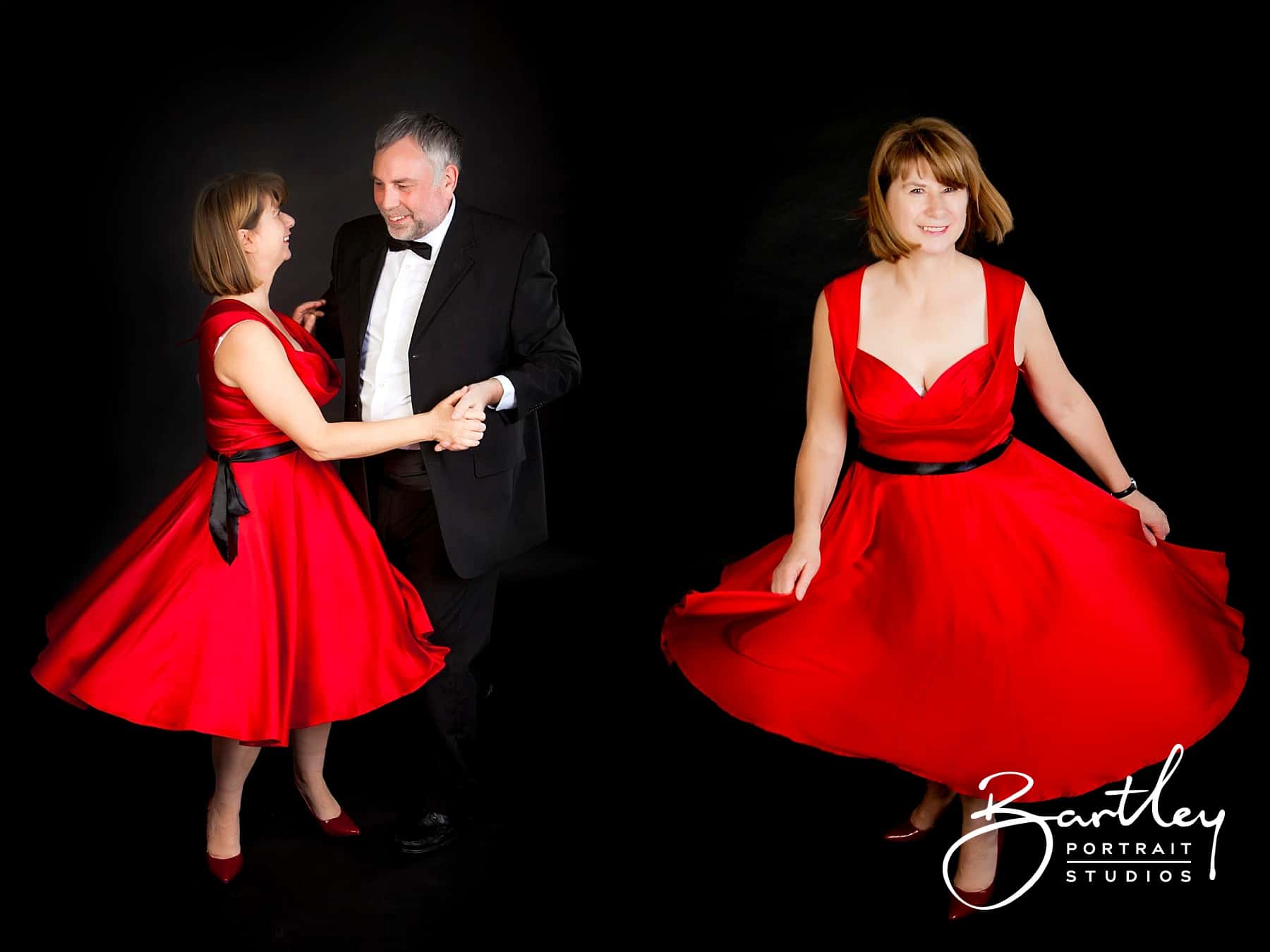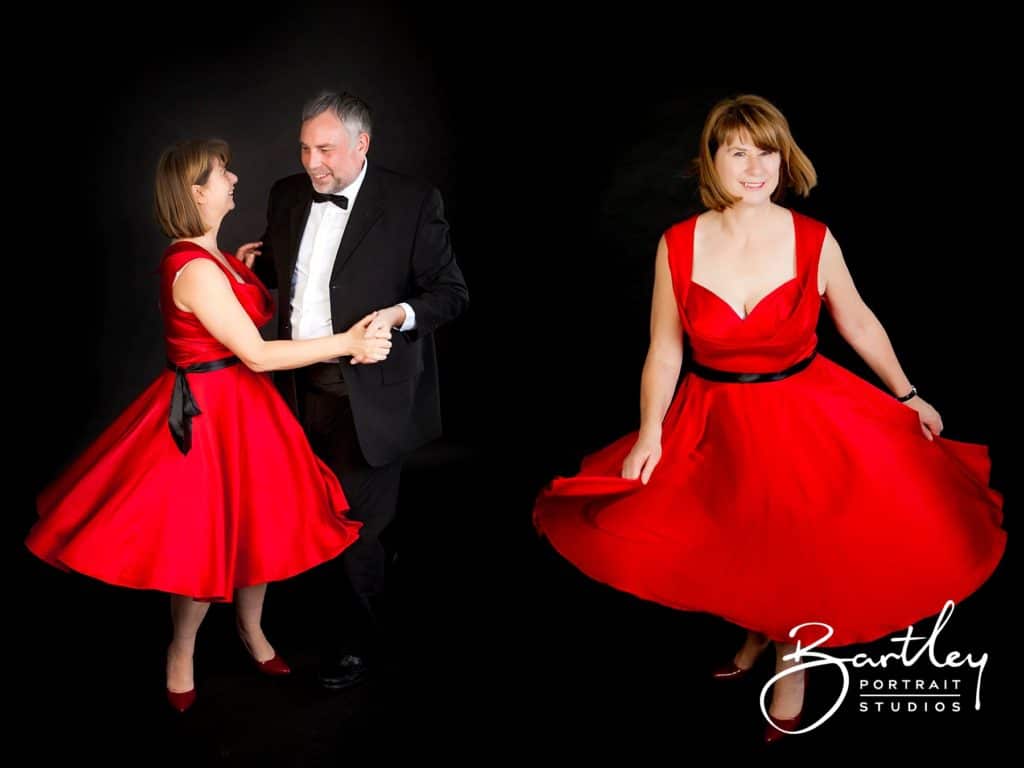 Were you worried about any parts of the session beforehand and if so what?
Not really. Our photographer was really lovely and had us laughing so much.


Tell us about the favourite parts of your experience and why you enjoyed them
Messing about with each other was the best bit. It was really nice to do something for 'us' for a change and working on different themes was great fun.


What advice do you have for other clients coming for a shoot with us?
Go in prepared to have fun.  The more fun you have the better and more natural the photographs.  Try and relax and go with the flow – we did!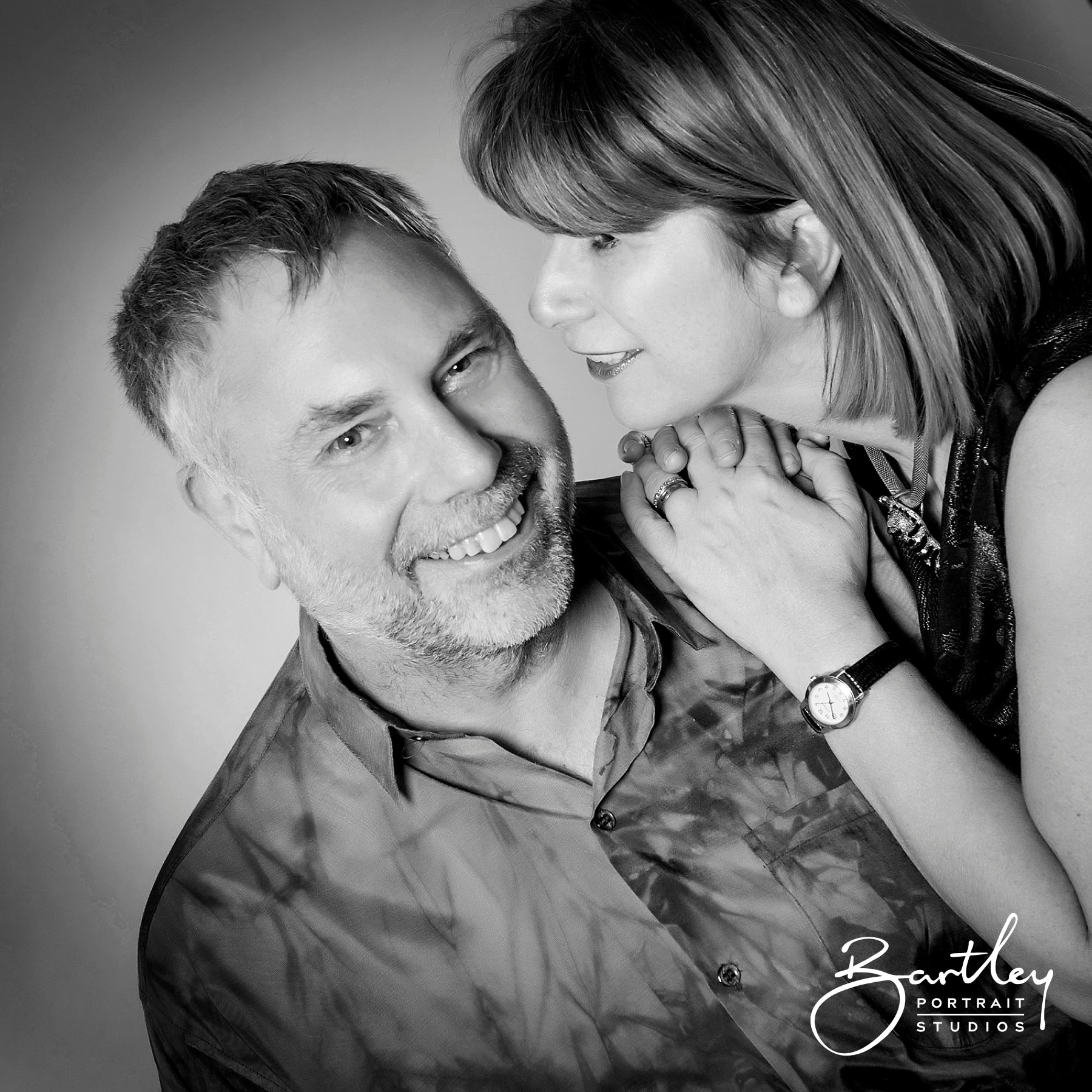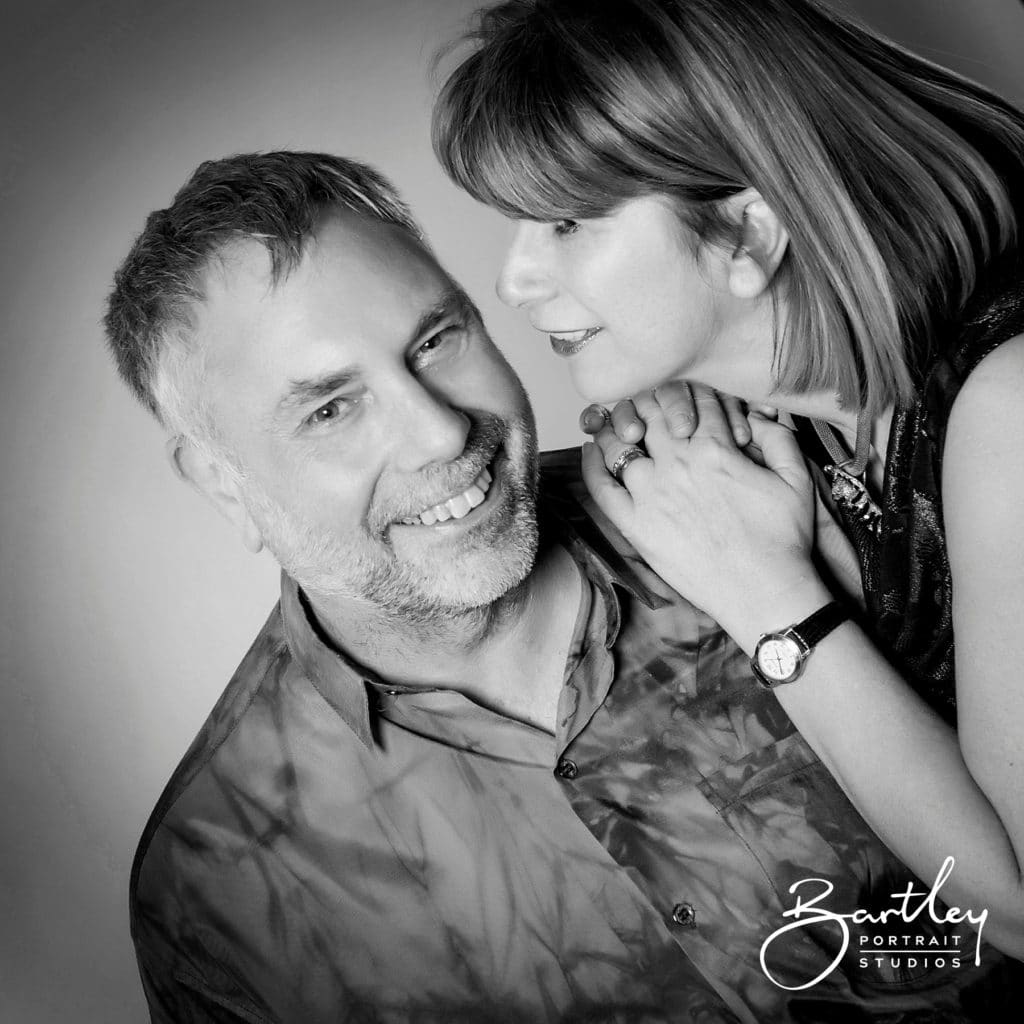 What was your favourite image overall?
Ooh, a very difficult question!  Margaret's favourite image was the one of Ray in tux.  Whilst that was being taken, she had quite a reflective moment and remembered why she had fallen in love with him in the first place.  Ray's favourite image was the one of us dancing together with the red dress on the black and white background making a 'spot' picture.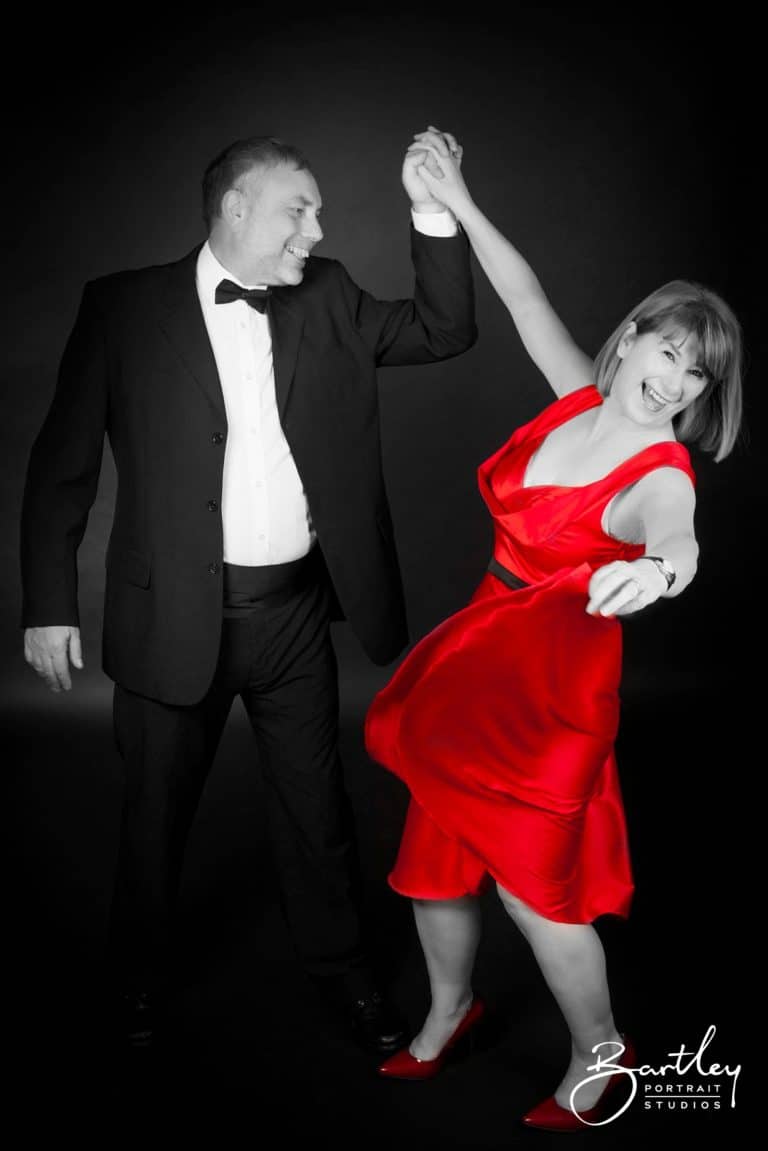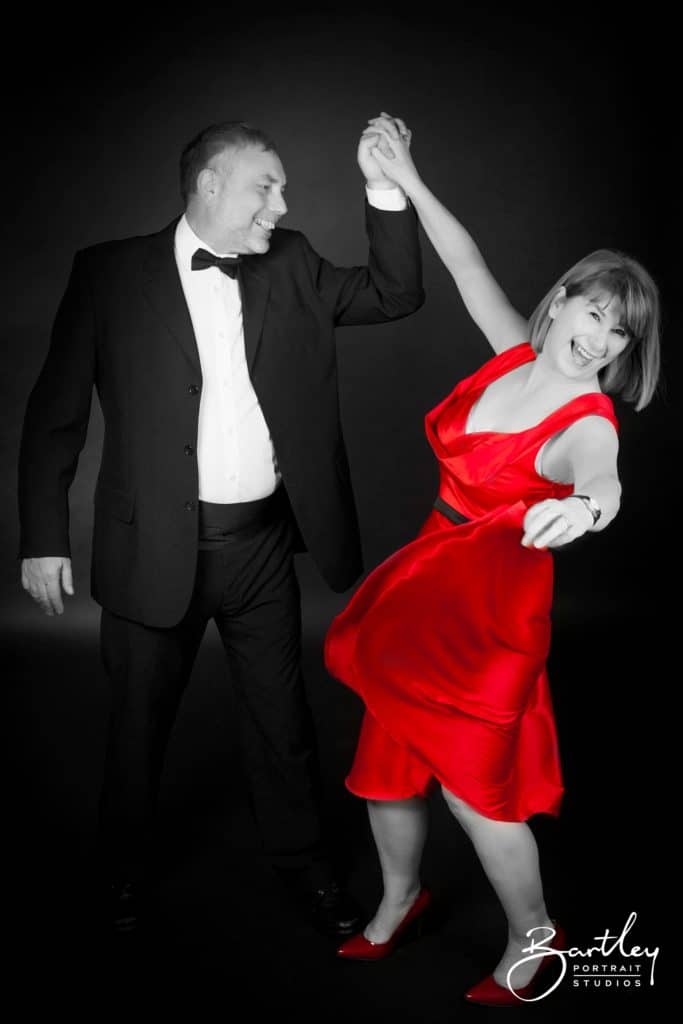 Are there any other comments that you would like to add?
When we went back for the viewing, it was really great to be able to manipulate the different images around, so we got exactly what we wanted.  Having the ability to purchase those images on a USB was perfect as well.  It was a great experience and fulfilled the expectations at question 1!
All through the process we were made to feel welcome and everyone was so friendly, from Rosie on the phone who discussed with us what we wanted to do before we came in, to arriving on the day (we were an hour early, but were still made to feel welcome!).
I would highly recommend Bartleys for both the enjoyable experience of the shoot itself and the great images that were produced.
Thank you!
Are you are interested in coming along for a Couple Photoshoot?
Perhaps you have a special birthday or anniversary coming up that you would like to celebrate? If so, then please take a look at the following pages…
Couples Photography at Bartley Studios